Back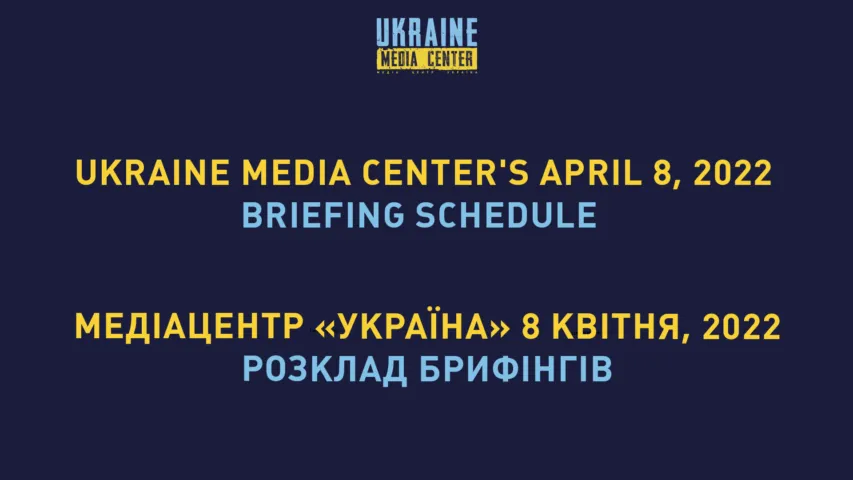 April 7, 2022, 22:03
UPDATED Ukraine Media Center's April 8, 2022, Briefing Schedule (32 Rynok Sq., Lviv)
10:00 AM — SPECIAL ACTION
In Lviv, next the russian embassy building people will bring things, which are being stolen most of all by russian occupiers from Ukrainian houses during the war. Scooters, sneakers, blenders, and other things will be symbolically placed as a part of the campaign by the organizers to show what «the second army of the world» is doing in Ukraine besides killing and raping people.
ATTENTION, DIFFERENT LOCATION: Levytskoho st., 95 (Consulate General of the russian federation in Lviv)
Organizer: +38 067 804 34 97 Iryna
12:30 PM — Oleh Malets, director of TVORY (Create) network of youth spaces (in person)
Taras Topolya, leader of ANTYTILA band, spokesman for the National Youth Council under the President of Ukraine (online)
Maryna Popatenko, Deputy Minister of Youth and Sports of Ukraine (online)
Topic: The Marshall Plan for Ukrainian youth 2025
Background: As announced by the European Youth Forum, Lviv became a finalist of The European Youth Capital 2025 contest.
The shortlisted cities are:
Lviv, Ukraine
Fuenlabrada, Spain
Izmir, Turkey
Tromsø, Norway
The city submitted an application for participation in the competition before the full-scale russian war against Ukraine. However, now the initiator of this process the network of youth spaces TVORY decided to reformat the application and unite all Ukrainian cities in the application: «We submit applications from all cities of Ukraine, because, as you can see, we no longer have any borders.»
After the victory in the war, all cities, towns and villages of Ukraine will need to change. This is what Ukrainian youth should take care of.
1:30 PM — Tetyana Lomakina, coordinator of humanitarian corridors, Office of the President of Ukraine (online)
Current issues:
Humanitarian corridors: challenges and solutions 
Forced deportation
🔔🔔🔔 URGENT! SPECIAL BRIEFING ON THE KRAMATORSK TRAGEDY (UPDATED)
14:00 – Oleksandr Honcharenko, Mayor of Kramatorsk (online)

Mr. Honcharenko will provide an update on the barbaric airstrike at the Kramatorsk train station and take questions from the Media Center venue.
2:30 PM — Lyudmyla Denisova, Commissioner for Human Rights of the Verkhovna Rada of Ukraine (online)
Current issues:
Does russia start mobilization in the temporarily occupied territories?
Respect for human rights in the temporarily occupied territories
3:00 PM—SPECIAL EVENT
(KYIV) Yurii Halushkin, Commander of the Territorial Defense Force of the Armed Forces of Ukraine (in person)
Key subject: up-to-date information about the work of the Territorial Defense Force
(LVIV) Online session with Yurii Halushkin with an opportunity for journalists to ask questions
The briefing schedule may be subject to change. Stay tuned!
Please follow our updates at:
facebook.com/UkraineMediaCenter/
https://bit.ly/3qSJtRU – live streams
The Media Center will function as a co-working space from 10:00 AM to 8:00 PM.
Contact us at:
+38 067 652 91 97