Back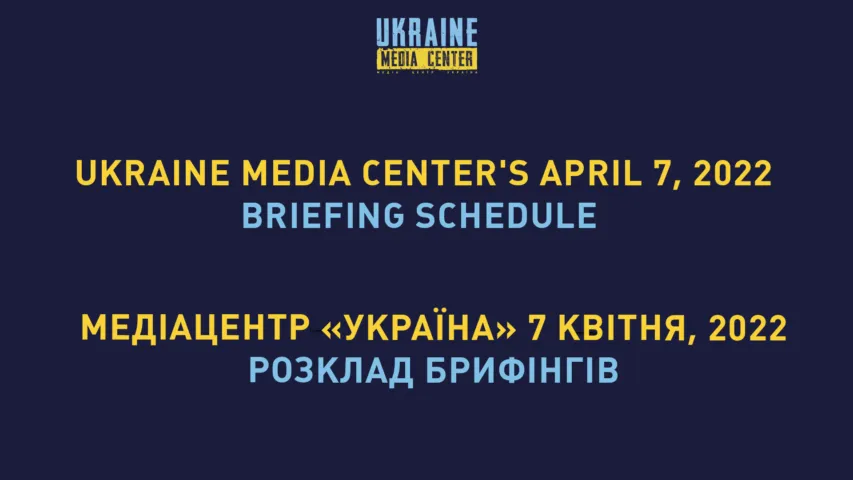 April 6, 2022, 16:57
UPDATED UKRAINE MEDIA CENTER'S APRIL 7, 2022, BRIEFING SCHEDULE (32 RYNOK SQ., LVIV)
11:30 AM — Oleksandr Teliuk, Cinema Expert, Head of Dovzhenko Center's Cinema Archive; Lyana Mytsko, Director of the Municipal Arts Center (all in person)
Cinema experts of Oleksandr Dovzhenko National Center, who moved to Lviv, will tell a story of their initiative. Together with local colleagues, they organize free movie screenings in Lviv Municipal Arts Center. They demonstrate the films produced by Dovzhenko Center. Before the screening, movie experts tell films' history and discuss their plots.
12:30 AM — Hanna Maliar, Deputy Minister of Defense of Ukraine (in person)
Current issues:
The situation on the frontline
Bucha, Irpin, and other de-occupied towns Latest news
Information security—challenges, threats, and victories
1:30 PM — Dr. Hans Henri P. Kluge, WHO Regional Director for Europe; Dr. Jarno Habicht, WHO Representative, Head of Country Office in Ukraine; Dr. Heather Papowitz, WHO Emergency Management Coordinator for Ukraine (all in person)
On World Health Day, April 7, 2022, the World Health Organization's (WHO) European Regional Office will hold a press briefing on the health situation in Ukraine and WHO's support for the Ukrainian health system while standing in solidarity with the country's health workers.
The briefing will also be streamed live on Zoom:
https://who.zoom.us/j/93728446235
Meeting ID: 937 2844 6235
Passcode: [email protected]
2:00 PM — ATTENTION! ANOTHER ADDRESS: (22, Ulas Samchuk street. Meeting next to the "Sensoteka" library)
Andriy Sadovyi, Lviv city major; Anton Kolomeytsev, City Chief Architect; pastor Bohdan Prah, rector of Ukrainian Catholic University; Oleh Yaskiv, pro-rector of Ukrainian Catholic University, the officer of 103 separate crew of territory defence forces of Ukraine's Armed Forces (all in person)
Lviv is assembling a temporary housing for Ukrainians who are escaping the war. From the beginning of a full scale intrusion of russia on the Ukrainian territory, Lviv hosted approximately two hundred thousand forcefully displaced Ukrainians. Today the chiefs of administration in Kharkiv, Luhansk and Donetsk regions are asking people who still stayed there to evacuate in case the occupants will continue the intrusion with more forces. Lviv is preparing to host a new wave of Ukrainians.
2:30 PM — Serhii Marchenko, Minister of Finance of Ukraine (online)
Current issues:
Financial stability under martial law
International front
Sanctions-related work by the Ministry of Finance
The briefing schedule is subject to change.
Please follow our updates at:
Stay tuned!
facebook.com/UkraineMediaCenter/
https://bit.ly/3qSJtRU – live streams
The Media Center will function as a co-working space from 10:00 AM to 8:00 PM.
Contact us at:
+38 067 652 91 97