Back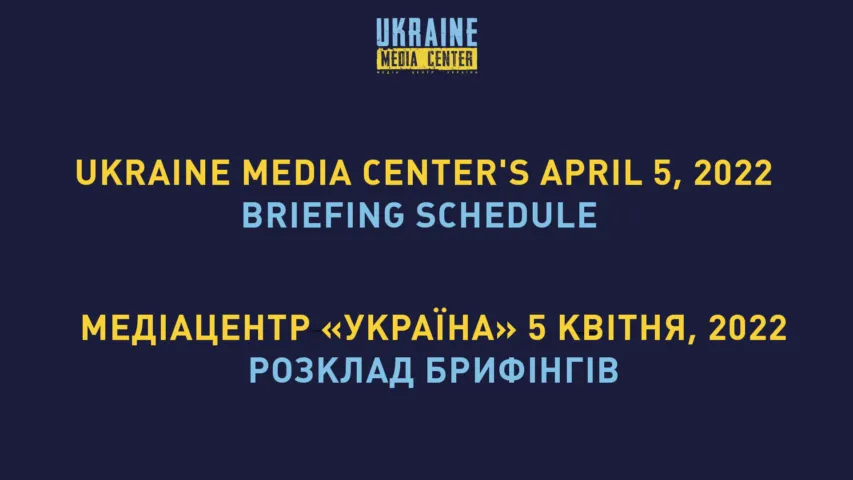 April 4, 2022, 18:44
UPDATED Ukraine Media Center's April 5, 2022, Briefing Schedule (32 Rynok Sq., Lviv)
11:00 AM — INFORMAL BRIEFING
Vadym Denysenko, Advisor to the Minister of Internal Affairs of Ukraine, Director of the Ukrainian Institute for the Future (in person)
Current issues:
Atrocities in Bucha and war crimes of the russian occupiers
Situation in the warzone
Economic effect of sanctions against Russia
The briefing will be held off-the-record.
Mr. Denysenko will be available for individual interviews after the briefing.
12:30 PM — Yevheniia Podlypenko, Head of the Department of Culture and Youth of the russian-occupied City of Melitopol (in person)
Current issues:
russian occupation through the eyes of a witness
How russia is trying to recreate the «Donbas» scenario in the occupied South of Ukraine
How russia is forcibly deporting Ukrainians to its territory
1:30 PM — Dmytro Nazarenko, First Deputy Head of Kyiv Regional Military Administration (online)
Current issues:
Deoccupation of the Kyiv region (Bucha, Irpin, Hostomel, Brovary district)
Humanitarian situation in the liberated territories
3:00 PM — Yevheniia Kravchuk, Ukrainian MP; Ivanna Klympush-Tsintsadze, Ukrainian MP
Both MPs were members of the parliamentary delegation of the Verkhovna Rada of Ukraine working in the United States and Canada during the last week. The MPs will talk about the results of their mission and the support from foreign partners Ukraine is receiving to fight russia.
8:00 PM — City-wide action "Svitlo Pamyati" (Light of Memory)
Location: The square in front of the Taras Shevchenko monument
In memory of the innocent Ukrainians killed by the russian occupiers.
Hundreds of candles will be lit in the square and a memorial service will be held for representatives of all religious denominations.
The briefing schedule may be subject to change. Stay tuned!
Please follow our updates at:
facebook.com/UkraineMediaCenter/
https://bit.ly/3qSJtRU – live streams
The Media Center will function as a co-working space from 10:00 AM to 8:00 PM.
Contact us at:
+38 067 652 91 97