Back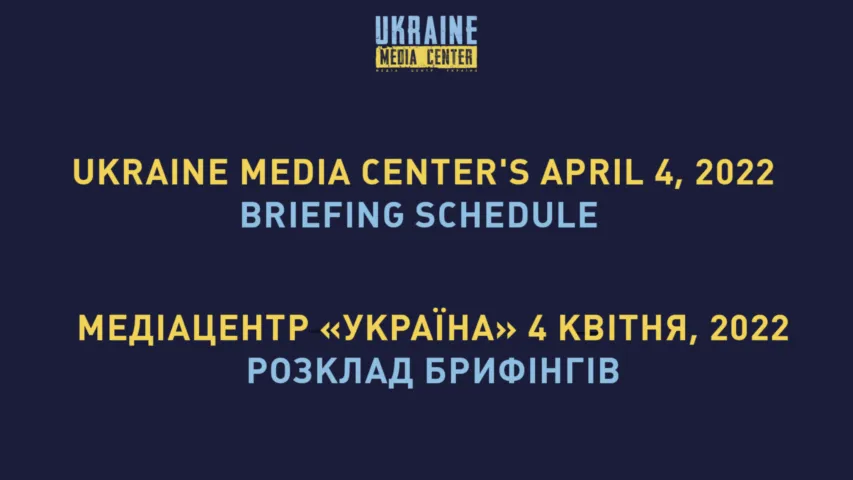 April 3, 2022, 18:05
UPDATED Ukraine Media Center's April 4, 2022, Briefing Schedule (32 Rynok Sq., Lviv)
11:30 AM  — BRIEFING CANCELED!
12:30 PM — Volodymyr Demchuk, Director of the Emergency Response Department of the State Emergency Service (in person)
Current issues:
Bucha, Irpin, Hostomel, and others: how russians plant landmines in Ukrainian cities
Landmine safety as a new behavior pattern for Ukrainians
(!IMPORTANT!) On April 4, the world observes the International Day for Mine Awareness and Assistance in Mine Action, declared by the UN General Assembly in 2005.
1:30 PM — Khrystyna Soloviy, a famous Ukrainian singer
Khrystyna Soloviy, one of the most popular Ukrainian singers, will tell journalists how she personally supports Ukraine and Ukraine's Armed Forces and what every Ukrainian can do now.
SPECIAL EVENT
2:30 PM – opening of the support center for the newly formed 125th Territorial Defence Brigade (based in Lviv).
Lt.-Gen. Artur Horbenko, Commander of the 125th Brigade;
Rostyslav Tistyk, Member of Ukrainian Parliament.
​Different location: Officers' Hall at 22 Teatralna St. (entrance from Kornyakta St.).
The briefing schedule is subject to change.
Please follow our updates at:
Stay tuned!
facebook.com/UkraineMediaCenter/
https://bit.ly/3qSJtRU – live streams
The Media Center will function as a co-working space from 10:00 AM to 8:00 PM.
Contact us at:
+38 067 652 91 97