Back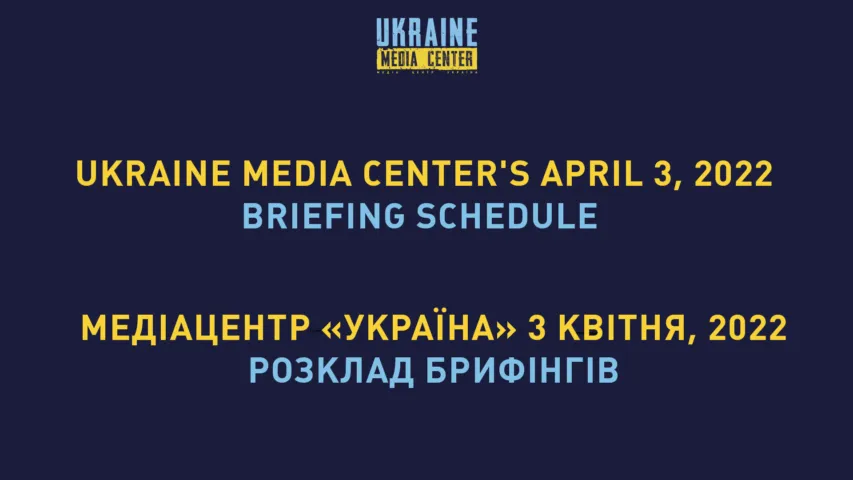 April 2, 2022, 21:12
Ukraine Media Center's April 3, 2022, PRELIMINARY Briefing Schedule (32 Rynok Sq., Lviv)
11:30 AM – Yevhen Kramarenko, Head of the State Agency of Ukraine on Exclusion Zone Management* (online)
Current issues:
Ukrainian flag over the Chernobyl nuclear station: did the russians really leave the station?
russian occupation of Chernobyl: current and future consequences
Situation at the Chernobyl nuclear power plant
* This agency is responsible for state policy on exclusion zone management, overcoming the consequences of the Chernobyl accident, radioactive waste management, and transformation of the Shelter Structure into an environmentally friendly system.
12:30 PM – Andrii Ivko, First Deputy Head of the State Agency of Automobile Roads of Ukraine (Ukravtodor)** (online)
Current issues:
Kilometers of roads, billions of UAH: Ukraine's infrastructural losses caused by the russian aggression
"Roads of life": how Ukrainian transportation arteries operate during the war
** This agency is responsible for state policy in the area of construction and maintenance of roads and related infrastructure.
The briefing schedule is subject to changes and updates. Stay tuned!
Please follow our updates at:
facebook.com/UkraineMediaCenter/
The Media Center will function as a co-working space from 10:00 AM to 8:00 PM.
Contact us at:
+38 067 652 91 97