Back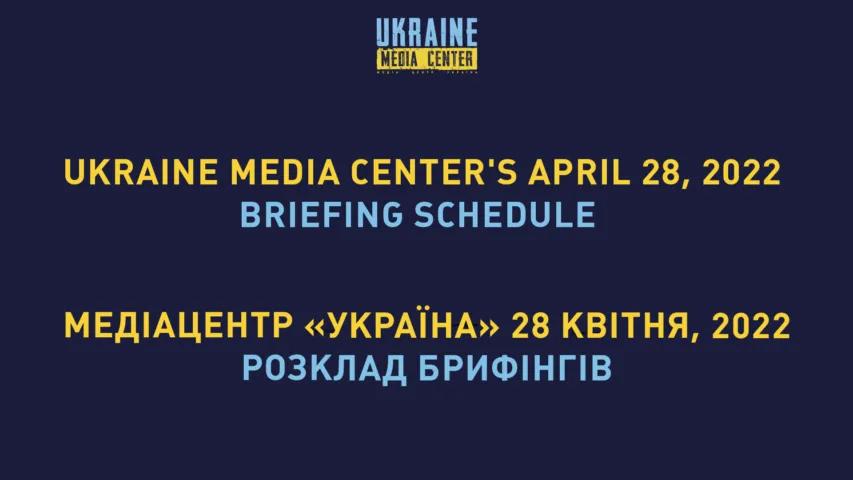 April 27, 2022, 19:50
Ukraine Media Center's April 28, 2022, Briefing Schedule (32 Rynok Sq., Lviv)
11:30 AM – Kalush Orchestra, representatives of Ukraine at Eurovision-2022 (in person)
Speakers:
Oleg Psyuk, Kalush Orchestra lead singer
Mykola Chernotytskiy, Chairman of the Board of the Public Broadcasting Company of Ukraine (Suspilne);
Oksana Skybinska, Head of the Ukrainian Delegation at Eurovision;
Oleksiy Zhembrovskiy, director of «Friends Production»
Current topics:
How the band managed to gather and rehearse during the war
Promo-tours in Israel, the Netherlands, Spain and Poland: how Ukrainians are supported, what foreigners know about the war in Ukraine
Preparations for the performance at Eurovision-2022 in Turin
How Suspilne broadcaster prepared the band for Eurovision during the war
Activities planned during the stay in Turin
Why this is interesting: Immediately after the briefing, the band is heading to Turin, where it will represent Ukraine at Eurovision-2022 on May 10 in the first semifinal.
12:30 PM – Pavlo Kyrylenko, head of the Donetsk Oblast Military Administration
Current topics:
military and humanitarian situation in Donetsk region
whether there is an evacuation through green corridors
situation in Mariupol
forced deportation of the local population to russia
Why this is important: The russians are carrying out continuous attacks on the positions of Ukrainian troops in the Donetsk region. They are destroying civilian infrastructure and massively killing civilians. According to preliminary estimates, about 20,000 people could have died in Mariupol alone. In addition, the russians do not adhere to the agreed regime of green corridors. Thousands of Ukrainians have been forcibly deported to russia.
2:00 PM – SPECIAL EVENT
Ukraine in children's hands
Fence painting performance. Graffiti will be painted by orphans from Lysychansk, with the help of local peers. The performance will be held at LvivTech.City – the first innovation park in western Ukraine, under the supervision of teachers of the School of Arts of the Free and Indifferent.
ATTENTION, DIFFERENT LOCATION: Lviv, 48-g Stryiska street
Contact details: +380 68 533 2290
The briefing schedule is subject to change.
The Media Center will function as a co-working space from 10:00 AM to 8:00 PM.
Contact us at:
+38 067 652 91 97
Read more: https://mediacenter.org.ua/news