Back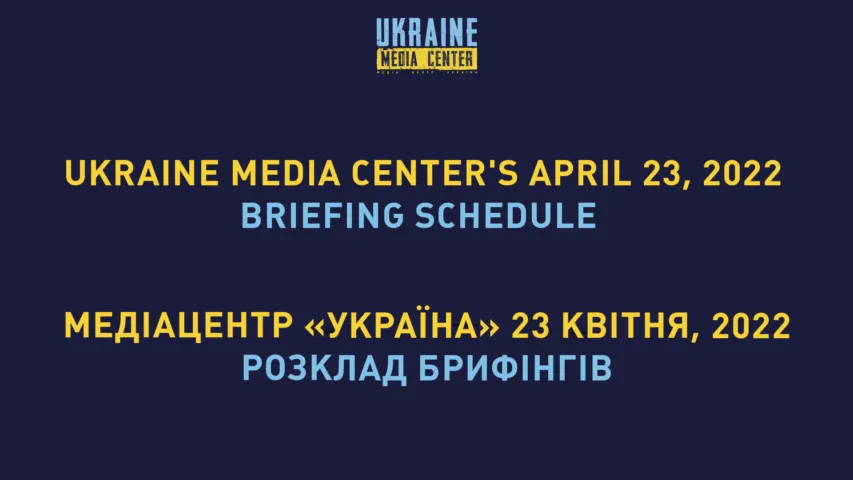 April 22, 2022, 19:46
Ukraine Media Center's April 23, 2022, PRELIMINARY Briefing Schedule (32 Rynok Sq., Lviv)
We kindly remind you that Ukraine Media Center will function as a co-working space on Saturday (April 23), Sunday (April 24), and Monday (April 25). On Saturday and Monday, Ukraine Media Center's reception desk will work from 10:00 AM to 3:00 PM
2:00 PM – SPECIAL EVENT
Opening of the «Patterns of War in the Rear. March. Lviv» photo exhibition.
(Attention! Different location: 35 Virmenska Street, Dzyga Art Center)
Author – Taras Maselko.
The exhibition is dedicated to rethinking the perception of everyday life before and after the war.
PARTNER EVENT
International conference "War Aftermath: Rethinking the Future of Civil Society" will be held on April 27-29, 2022 in Warsaw (Poland). The Conference will bring together civil society stakeholders to determine current priorities, find common ground and work out priority steps for Ukraine's reconstruction and civil society development.
Accreditation for the media: [email protected].
For more information: https://war-aftermath.ednannia.ua/
Please follow our updates at:
facebook.com/UkraineMediaCenter/
https://bit.ly/3qSJtRU – live streams
The Media Center will function as a co-working space from 10:00 AM to 8:00 PM.
Contact us at:
+38 067 652 91 97