Back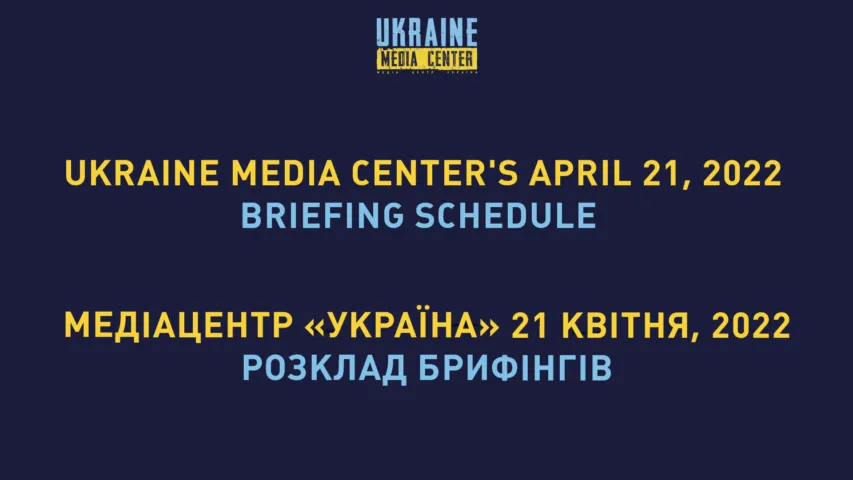 April 20, 2022, 17:57
UKRAINE MEDIA CENTER'S APRIL 21, 2022, BRIEFING SCHEDULE (32 RYNOK SQ., LVIV)
ALERT! The Orientation Session is postponed till next week.
ORIENTATION SESSION for media representatives
Media and the War in Ukraine
how to work with the authorities;
cans & cannots under the martial law;
the most interesting topics to cover.
Panelists: Lviv Regional Military Administration, Lviv City Council, National Police, Security Service, Territorial Defence.
History Briefing
Ukraine & Russia;
origins of the war;
European and global context.
Military Briefing
how to understand the geography of the war;
current situation at the frontline;
weapons.
Panelist: Oleksandr Arhat, Militarniy Portal.
Journalists' Panel.
Panelists: Reporters Without Borders, media representatives.
11:30 AM — Eliza Dzwonkiewicz, Consul General of the Republic of Poland in Lviv (in person)
Current issues:
Poland's support for Ukraine during the Russo-Ukrainian war
Humanitarian aid provided by Poland to the Ukrainians
1:30 PM — Serhiy Haidai, Head of Luhansk Oblast Military Administration (online)
Current issues:
The current situation in Luhansk Oblast
Evacuation of the civilians
The humanitarian situation in the region
3:30 PM — Briefing by Representatives of the United Nations and Caritas
Humanitarian Situation in Ukraine and Humanitarian Response
Participants:
• Amin Awad, UN Assistant Secretary-General and Crisis Coordinator for Ukraine
• Osnat Lubrani, UN Resident Coordinator & Humanitarian Coordinator in Ukraine
• Karolina Lindholm Billing, UNHCR Representative in Ukraine
• Tetiana Stawnychy, President of Caritas Ukraine
(all in person)
Current issues:
The humanitarian situation and assistance from partners
Allocating funds from the Humanitarian Fund to provide relief to Ukraine
Needs of forcibly displaced persons, including the most vulnerable groups
Assistance by local NGOs to people affected by the war.
You can find us here:
facebook.com/UkraineMediaCenter/
https://bit.ly/3qSJtRU – live streams
The Media Center will function as a co-working space from 10:00 AM to 8:00 PM.
Contact phone:
+38 067 652 91 97