Back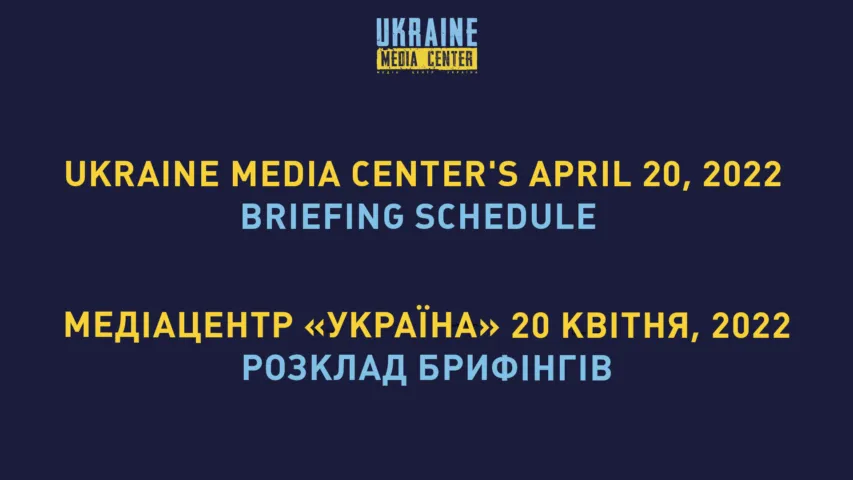 April 19, 2022, 17:00
UKRAINE MEDIA CENTER'S APRIL 20, 2022, BRIEFING SCHEDULE (32 RYNOK SQ., LVIV)
12:30 PM — Pavlo Drozdiak, Chaplain of Lviv City Council and Press Secretary of Lviv Eparchy of the Ukrainian Greek Catholic Church 
Yevhen Boiko, Chief of Mayor's Administration
Representatives of the clergy and authorities came up with recommendations for the faithful on celebrating Easter during the war.
1:30 PM — SPECIAL EVENT
A public launch of the Buy Me a Fighter Jet initiative.
The founders will tell you who can join the initiative and how to do it,
and what kind of jets they will be able to buy.
PARTICIPANTS:
Serhii Drozdov, Commander of the Air Force of Ukraine's Armed Forces from 2015 to 2021
Yurko Nazaruk, co-founder of Aviatsiya Halychyny brand
(all in person)
9:00 PM – 10:00 PM – A delegation of members of the European Parliament and senators of the French Parliament, as well as scientists and public figures heading to Kyiv will be in Lviv.
While in Lviv, the members of the delegation will be ready to speak with the press. For organizational matters, please call +38 050 944 03 25 (Dariia)
The briefing schedule is subject to change.
Please follow our updates at:
Stay tuned!
facebook.com/UkraineMediaCenter/
https://bit.ly/3qSJtRU – live streams
The Media Center will function as a co-working space from 10:00 AM to 8:00 PM.
Contact phone:
+38 067 652 91 97