Back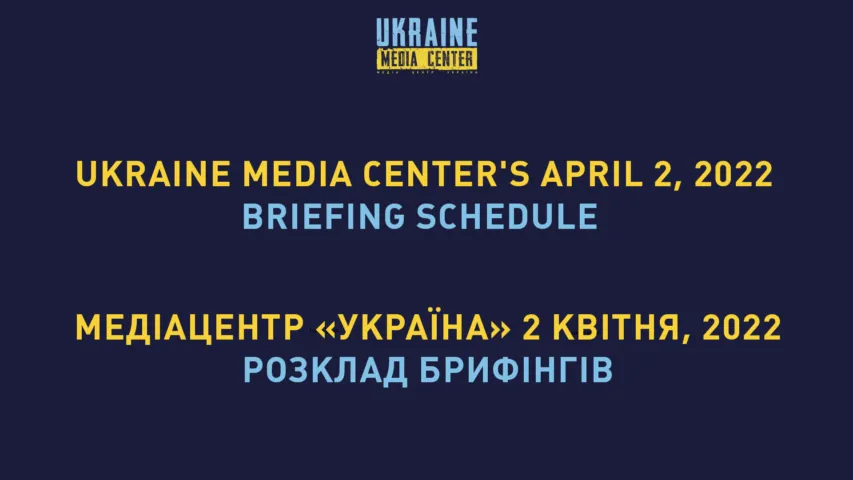 April 1, 2022, 21:14
Ukraine Media Center's April 2, 2022, UPDATED Briefing Schedule (32 Rynok Sq., Lviv)
TIME CHANGED!!! 09.30 AM—SPECIAL EVENT
KALUSH ORCHESTRA will play their song Stefania, Ukraine's entry for the Eurovision Song Contest 2022. The musicians will tell journalists about the start of their preparations for the contest.
Venue: 32 Rynok Sq. Square in front of Ukraine Media Center
11:30 AM—A dendrologist from Mariupol will be engaged in the work on Lviv's parks
Participants (in person):
Oleksandra Sladkova, Head of the Office for Ecology and Natural Resources
Nataliia Honcharova, Dendrologist and Landscape Designer from Mariupol
Story:
Nataliia Honcharova, Mariupol's landscape designer, was forced to leave her city for Lviv.
She created the legendary parks in her home city. Now these parks have been destroyed by the Russian aggressors.
Oleksandra Sladkova, Head of Lviv's Office for Ecology and Natural Resources, invited Nataliia Honcharova will be engaged in revitalizing and planting plants in Lviv's parks.
01:30 PM — Daria Herasymchuk, Advisor and Commissioner of the President of Ukraine for Rights of Children and Children Rehabilitation (online) 
Topic: How to keep safe and protect Ukrainian children during the war.
The briefing schedule is subject to change.
Please follow our updates at:
Stay tuned!
facebook.com/UkraineMediaCenter/
https://bit.ly/3qSJtRU – live streams
The Media Center will function as a co-working space from 10:00 AM to 8:00 PM.
Contact us at:
+38 067 652 91 97