Back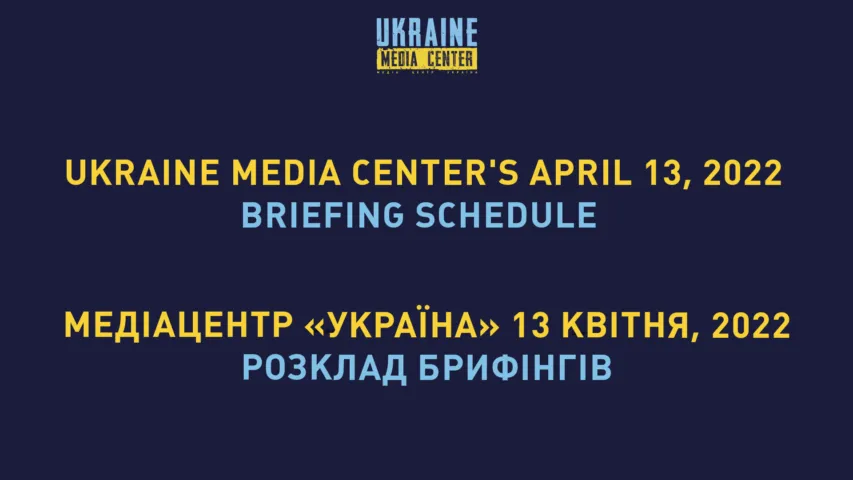 April 12, 2022, 15:43
Ukraine Media Center's April 13, 2022, PRELIMINARY Briefing Schedule (32 Rynok Sq., Lviv)
12:30 PM – Special Event
A protective structure will be installed around the Virgin Mary sculpture
(ATTENTION – DIFFERENT LOCATION: Mariyska Sq.)
Lviv protects monuments. From the first days of the war, Lviv has been concerned with preserving its historical heritage and installing protective structures.
Participants: Liliya Onyschenko, Head of the Department of Historic Environment Protection; Representatives of volunteer initiatives
1:30 PM – Taras Kuchma, Mayor of Drohobych (in person)
Topic: Challenges, achievements and issues of humanitarian aid on the example of a single city in western Ukraine:
How much and what kind of humanitarian aid did Drohobych use to help the displaced persons?
How much and what kind of humanitarian aid did Drohobych send to other cities?
How to make humanitarian aid more effective?
During the briefing, the mayor of Drohobych will provide a public report.
2:30 PM – Vadym Boichenko, Mayor of Mariupol (online)
Current issues:
Humanitarian situation in Mariupol
War crimes of the russian occupiers
3:30 PM – Closed Briefing
Tamila Tasheva, Deputy Representative of the President of Ukraine in the Autonomous Republic of Crimea, Crimean Tatar human rights activist (in person);
Maria Tomak, Head of the Service for the Support of Crimea Platform (in person)
Topic: The situation in the occupied Crimea in the context of a full-scale russian invasion of Ukraine
The situation in the occupied Crimea on the eve of February 24, 2022.
Crimea as a lodgement for a new stage of the russia's armed aggression against Ukraine.
The situation with the rights of the indigenous population of Crimea, in particular, the Crimean Tatars, and how they were affected by the war in mainland Ukraine.
Resistance of Ukrainian citizens to full-scale aggression in Crimea and Kherson region.
Intensification of russian propaganda in Crimea before and during the full-scale russian invasion.
Socio-economic situation on the occupied peninsula. Consequences of sanctions.
The briefing will not be broadcasted or recorded. Seats are limited. Please fill in the form to attend.
The briefing schedule is subject to changes and updates. Stay tuned!
Please follow our updates at:
facebook.com/UkraineMediaCenter/
The Media Center will function as a co-working space from 10:00 AM to 8:00 PM.
Contact us at:
+38 067 652 91 97