Back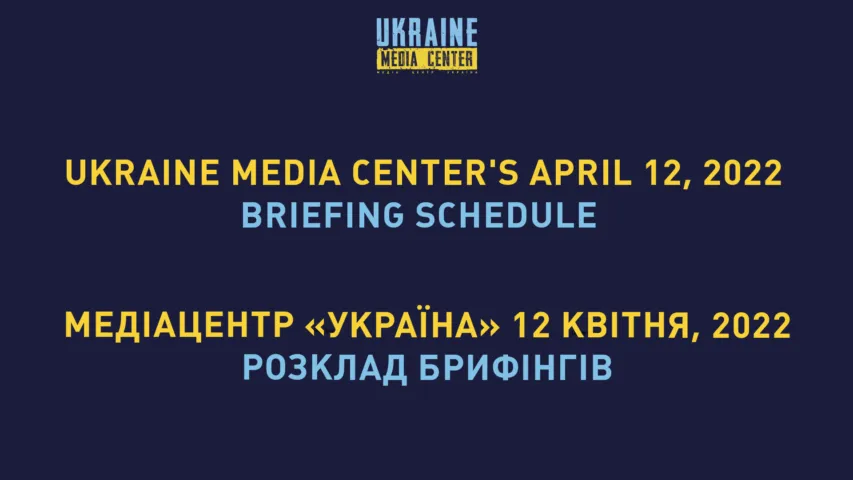 April 11, 2022, 19:54
UKRAINE MEDIA CENTER'S APRIL 12, 2022, BRIEFING SCHEDULE (32 RYNOK SQ., LVIV)
9:50 AM – SPECIAL EVENT
PLAST, Ukraine's national scouting organization, pays honors to the military and Plast members on the occasion of the organization's 110th anniversary
(!) Attention, a different address: Field 76 of Lychakiv Cemetery, entrance from Vakhnianyna Street
Plast is Ukraine's national scout organization; it is the largest and oldest youth organization in Ukraine that nurtures committed and proactive young people based on scouting principles.
Contact phone: 38 (050) 539 19 95 (Maryna)
11:30 AM – Andrii Ivko, First Deputy of Ukravtodor, Ukraine's State Road Agency (online)
Current issues:
restoring bridges and roads in territories liberated from invaders
restoring transportation to Irpin, Chernihiv, and on M06 (Kyiv – Chop) highway
12:30 PM – Caleb Carr, CEO Vita Inclinata Technologies (in person)
Caleb Carr came to Ukraine to hand over the unique Vita Rescue System that costs over US$ 500,000 to the State Emergencies Service of Ukraine.
Installed on rescue helicopters, this system allows evacuating the wounded more efficiently and safely. The hand-over of the system to be installed on a Ukrainian Mi-8 helicopter will be followed by training for SES personnel.
IMPORTANT:
Systems like this one are used by the U. S. Army and the U. S. Air Force. Caleb Carr urges representatives of the defense sector of the USA to follow his example and provide Ukraine with various medical, rescue, and protection equipment.
For more information about the system, check out these videos: one, two and three.
1:30 PM – Ihor Kolykhaiev, Kherson's Mayor (online)
Current issues:
The current situation in the city occupied by russian troops
2:40 PM – SENSITIVE BRIEFING
Informal sensitive briefing by Oleksandr Arhat (Militarny web portal) (in person).
The briefing will be dedicated to weapons needed by Ukraine for a victory over russia
✔ What kind of weapons do the Armed Forces of Ukraine need to win the war, and how will they affect the combat?
✔ Which countries have available the equipment that can be used immediately by the Armed Forces of Ukraine?
✔ What kind of Western weapons does Ukraine need today to have time for mastering them in the future?
Seats are limited. To be able to enter the venue, please fill out this form.
The briefing schedule is subject to change.
Please follow our updates at:
Stay tuned!
facebook.com/UkraineMediaCenter/
https://bit.ly/3qSJtRU – live streams
The Media Center will function as a co-working space from 10:00 AM to 8:00 PM.
Contact phone:
+38 067 652 91 97