Back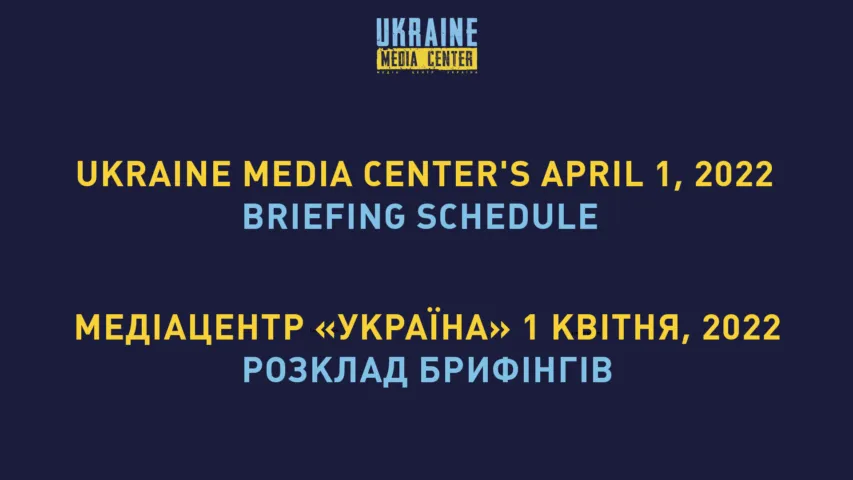 March 31, 2022, 18:33
Ukraine Media Center's April 1, 2022, Briefing Schedule (32 Rynok Sq., Lviv)
11:30 AM – «Art life of Lviv during the war» briefing
(!!! ATTENTION – DIFFERENT LOCATION)
Municipal Art Center, 11 Stefanyka Street
Participants:
Natalia Bunda, head of the city's development department;
Lyana Mytsko, head of the Municipal Art Center;
Andriy Vodychev, director, actor of the Les Kurbas Theater of Lviv
Topic:
How the cultural front has been transformed since the beginning of the full-scale invasion.
12:30 PM – Vasyl Zadvornyi, Director of State Enterprise ProZorro (in person)
«Prozorro» is an online public procurement system that has become one of the most successful Ukrainian reforms. It ensures fair and transparent use of budget funds.
The director of Prozorro will tell how the system operates during wartime, and, in particular, how procurement is carried out for the Ukrainian army.
The director of Prozorro will also talk about procurement in other areas.
1:30 PM – Anatolii Vovniuk, Acting Head of State Service of Ukraine on Food Safety and Consumer Protection (SSUFSCP)
Olha Shevchenko, Deputy Head of SSUFSCP
Oleh Ruban, Head of Kyiv Central Office of SSUFSCP (in person)

ATTENTION, ADDITIONAL GUEST!
Taras Vysotskyi, First Deputy Minister of Agrarian Policy and Food of Ukraine
The SSUFSCP is a state agency responsible for food security, controlling prices for basic necessities, and establishing rules for cross-border transportation of food and animals.
Main topic: Presentation of the National Food Security Platform
The platform unites the efforts of military administrations, food producers, sales networks, and international organizations to stimulate the Ukrainian economy and provide food and basic necessities to residents of communities, members of the Armed Forces of Ukraine and territorial defense. More than 1,000 participants have already joined the platform.
Additional topics:
– Monitoring of prices for goods of social significance;
– Peculiarities of cross-border transportation of animals during martial law.
The briefing schedule is subject to changes and updates. Stay tuned!
Please follow our updates at:
facebook.com/UkraineMediaCenter/
The Media Center will function as a co-working space from 10:00 AM to 8:00 PM.
Contact us at:
+38 067 652 91 97