Back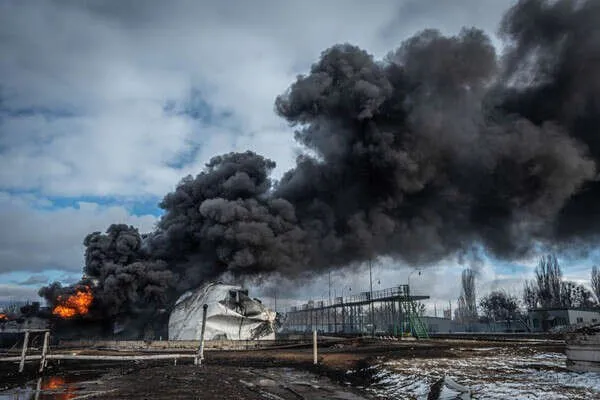 The photo from open sources
February 6, 2023, 15:35
Ukraine incur total amount of losses on land, water resources and impact on atmospheric air worth about 1 trillion 900 billion UAH – Ministry of Environmental Protection and Natural Resources
State Ecological Inspection of Ukraine has already recorded more than 2303 cases of environmental damage. Calculations are held in several areas, – Oleksandr Stavniichuk, Deputy Head of Directorate, Head of the Environmental Control Department of the Environmental Control and Methodology Directorate of the Ministry of Environmental Protection and Natural Resources of Ukraine, informed more on this during the briefing at the Media Center Ukraine – Ukrinform.
"The total amount of pollution and land contamination exceeds 845 billion UAH, atmospheric air pollution is 998 billion UAH, the amount of damage to water bodies is 56 billion UAH. Thus, the total amount of losses on land, water resources and impact on atmospheric air worth about 1 trillion 900 billion UAH to date – ", – said Stavniichuk.
The expert added that as a result of full–scale invasion 514 territories of objects of natural reserve fund were occupied. In total, since February 24, the territories of 900 objects of the natural reserve fund of 1.2 million hectares have been affected. Ten national nature parks, 8 nature reserves and 2 biosphere reserves are under occupation.
"About 600 species of Taurens, around 750 species of plants and mushrooms, which, by the way, are included in the The Red Data Book of Ukraine are now threatened with extinction. There is a catastrophic death of the Black Sea dolphins. All 20 species of bats registered in the fauna of Ukraine and included in the Red Book of Ukraine are under threat. More than 120 species of water and wetland birds of fauna of Ukraine, which are the object of protection of the Agreement on the Conservation of African–Eurasian Migratory Waterbirds, are under threat" – said Stavniychuk.
Also, according to the expert, now there are 538 thousand hectares of forests under occupation and in the war zone. Water infrastructure has also suffered, these are dams, pumping stations and other hydraulic structures – more than 500 objects in total have been damaged.
Read more: https://mediacenter.org.ua/news