Back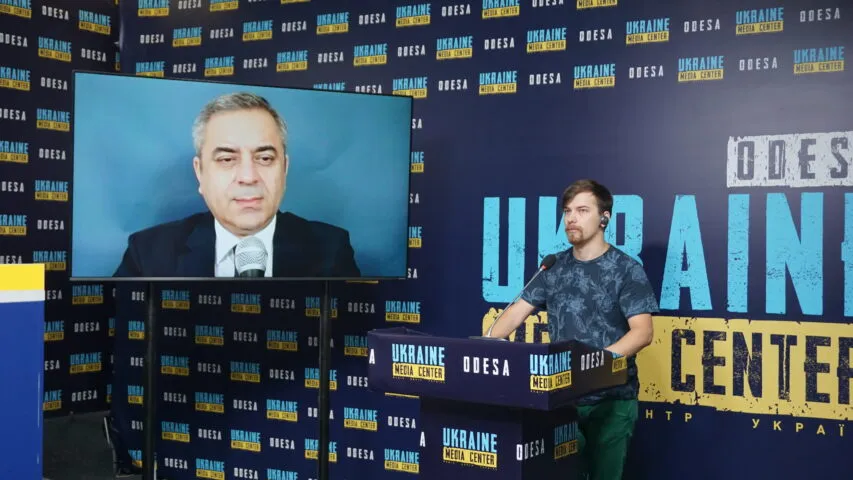 Photo by Media Center Ukraine – Odesa: Claudiu Degeratu, independent expert and associate professor at the Faculty of History, University of Bucharest
September 5, 2023, 15:11
Ukraine and Romania should coordinate statements on Russian shelling – Romanian expert
This opinion was expressed at a briefing at the Media Center Ukraine – Odesa by Claudiu Degeratu, an independent expert and associate professor at the Faculty of History at the University of Bucharest, commenting on the shelling of the port of Izmail on the night of September 3-4.
The Ministry of Foreign Affairs of Ukraine claims that during the shelling, russian "Shaheds" fell and detonated on the territory of Romania.
According to the expert, Romanian authorities condemned the shelling of Ukrainian ports on the Danube, but stated that there was no downing of drones and that the "Shaheds" did not pose a threat to Romanian territory.
"The Romanian authorities say that there was no downing of the Shaheds on Romanian territory, and they have the relevant evidence. The Ukrainian authorities say that there was a downing of the drones, but in 48 hours we have not received any evidence. So now we in Romania believe that there is no such evidence. However, we need to conduct an investigation according to the information that Ukraine can provide," – the expert said.
In his opinion, it will be necessary to check all the available information, and later Romania and Ukraine will formulate a joint statement on this issue.
"Any public information about potential threats will have an impact on Romanian public opinion. And it is not good when Kyiv and Bucharest make different statements. I believe that the parties need to better coordinate public statements regarding attacks on the Danube region," – the expert added.
Read more: https://mediacenter.org.ua/news