Back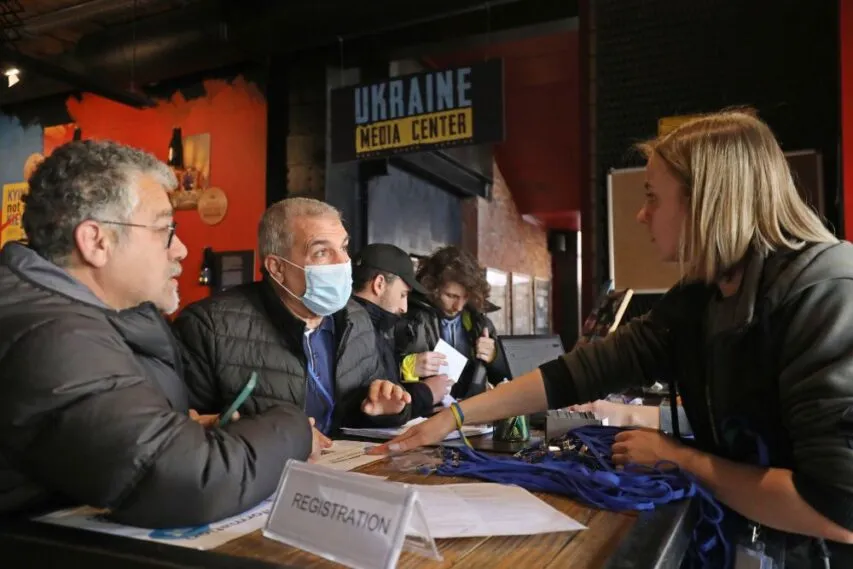 May 3, 2022, 12:18
Two thousand foreign journalists arrive in Lviv since start of full-scale war
Media workers from over fifty countries of five continents are reporting on russia's attack on Ukraine. СNN, BBC, the Guardian, New York Times, Bild, Al Jazeera correspondents as well as journalists from other media of the world work in Ukraine.
Media workers in the country are mainly represented by Ukraine (26% of journalists and media fixers), France (8%), the U.S. (8%), Italy (7%), the UK (6%), Poland (5%), Spain (5%), Germany (5%), Canada (3%) and Japan (3%).
This is the data of the Lviv Tourism Office, which served as the foundation for the creation of Lviv Media Center in February. Back then, tourists had already started leaving Lviv, but the number of foreign journalists was growing day by day. Therefore, the location on Ruska street was modified for the needs of foreign media. Within less than a month of operation, it grew to the scale of Media Center Ukraine, and as the result of the cooperation between Lviv City Council, the Office of the President of Ukraine and media workers from Kyiv it became an actual haven for journalists. At that point Media Center Ukraine moved to a bigger location at «Pravda» brewery at 32 Rynok Square, which is where it currently operates.
Every day Media Center Ukraine holds press briefings and live broadcasts from all Ukrainian cities, as well as meetings with representatives of different sectors for foreign journalists to understand the military, political or social situation in Ukraine better. The location also operates as a co-working space. This is a place, where journalists can obtain current and verified information on the main events in Ukraine.
«We are the first to welcome journalists coming to Ukraine. Not only do we register journalists, but also immediately provide as much information as possible to help them work in our country. We make sure that the journalists are informed on the peculiarities of work in wartime and have access to important contacts and speakers. We assist with finding a person or a story, through which the world will learn about the war in Ukraine even more,» — Coordinator of Media Center Ukraine Khrystyna Lebed said.
«We received a lot of help in the Media Center. The location is great as well as the internet connection and the experts helping to establish contact with different types of people: refugees, (those who work in) hospitals, the army. It is really important that a country at war should have such a service for foreign journalists,» — Cristina Solias of Tv3, Spain noted.
In addition, the Media Center cooperates with international organization, Reporters Without Borders, that stands for the rights and safety of journalists. They contributed to setting up Lviv Press Freedom Center that provides helmets, bulletproof vests and tourniquets to journalists as well as delivers training on personal security and premedical first aid.
Read more: https://mediacenter.org.ua/news