Back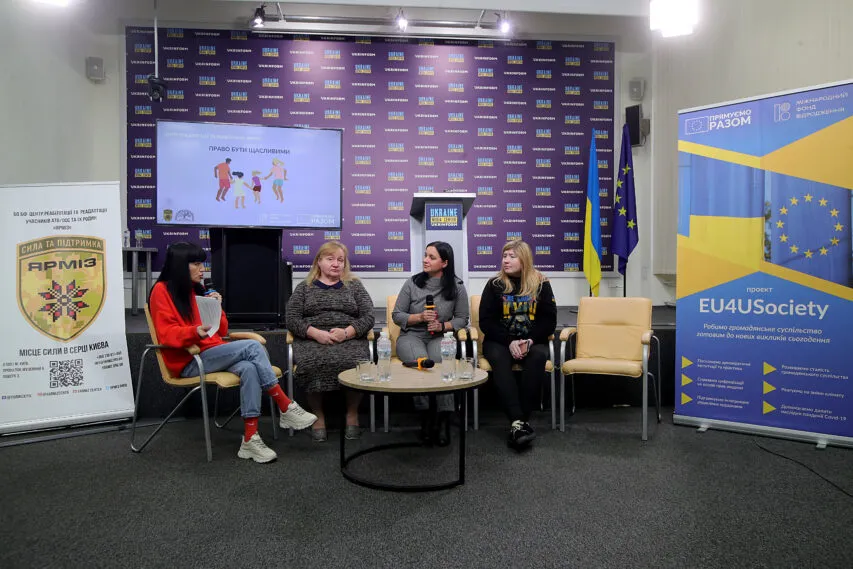 А presentation of the authorial program of work on psychosocial support for families affected by the war and of the project products
October 19, 2022, 13:24
There is not a single person left in Ukraine who would not have suffered from the war — psychologists
Today, on October 19, Media Center Ukraine — Ukrinform hosted a presentation of the authorial program of work on psychosocial support for families affected by the war and of the project products. The programs are reviewed by the Institute for Social and Political Psychology of the National Academy of Educational Sciences of Ukraine and recommended for use in educational institutions and implemented with support of the European Union and the International Foundation "Renaissance" within the scope of the joint initiative "EU4USociety".
Olha Pletka, the author of the program, a psychologist, said that the project is based on the authorial program, which was developed after the question of how to rehabilitate children staying in the gray zone had come up.
"During the eight years of war, a generation of children who do not know tranquil life has grown up. After full-scale invasion, much more horrors of war emerged. And now there is not a single person throughout the country who would not have suffered from the war. But children need more attention because they are not able to deal with stress on their own. It is important to provide comprehensive support — to help both children and parents recover, understand what happens to them," she said.
The program authors' task was to train psychologists who can manage this program and work with families to see its efficiency. Now the project is still ongoing, but the organizers have already noted that the comprehensive support provides significant positive shifts.
"Crisis psychologists believe that in the case of applying a scientific approach to such programs, 80% of patients will recover with no problems, and 20% may have post-traumatic reactions that require specialized assistance," the author of the program said.
According to Olha Pletka, the project published several materials: Parents' Leaflet "How to Establish Communication with a Child Who Suffered from the War"; Specialists' Guidelines "Psychosocial Support for Children Who Experienced the War Horrors."
Read more: https://mediacenter.org.ua/news