Back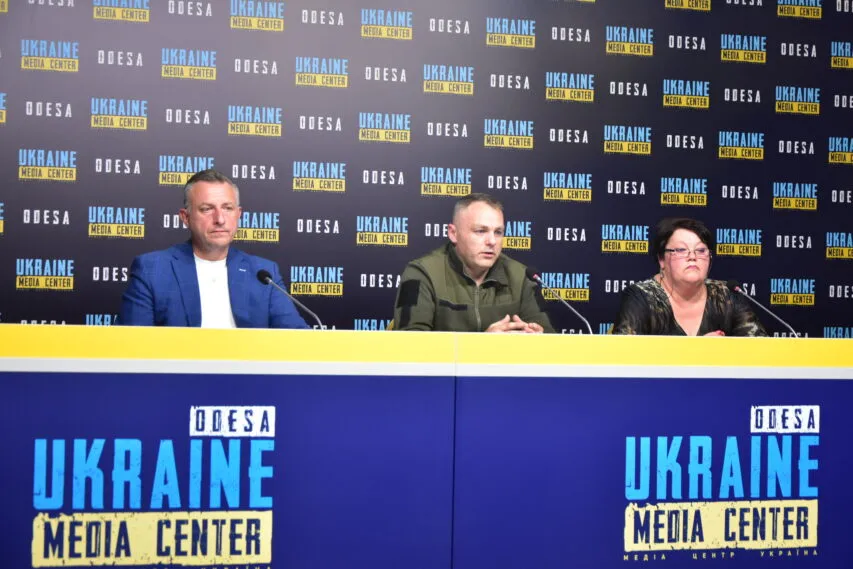 Photo by Media Center Ukraine – Odesa: Pavlo Bulanovych, director of the Department of ecology and natural resources of Odesa regional military administration; Mykola Slyzovsky, representative of Ecological inspection of Southern-Western region; Anzhela Tkachenko, chief veterinarian doctor of Odesa region
June 13, 2023, 15:57
The salinity level of the Black Sea near Odesa is six times lower then standards
Peak loads on the ecosystem due to the undermining of the Kakhovka hydroelectric dam were observed on June 9-10-11. Mykola Slyzovsky, representative of Ecological inspection of Southern-Western region, told this at a briefing at the Media Center Ukraine – Odesa.
"On June 7, we started taking samples, and the level of excess of harmful substances, oil products, iron, and abnormal nitrogen were 10–15 times higher, than it should be. We also observed significant desalination of water. As of June 9, the salinity level of the coastal water was 2.5 ppm, while the standard is 12-14. This will further negatively affect biological resources," – the expert noted.
However, the salinity of the Black Sea water on the Mykolaiv coast is better – 4.5 ppm, no excess of harmful substances was detected.
Pavlo Bulanovych, director of the department of ecology and natural resources of Odesa regional military administration, noted that water samples showed the content of salmonella and intestinal infection, but no cholera was detected.
"I urge you not to buy fish, mussels, and rapeseed. This is to put yourself in danger, because there may be a chain reaction that will be difficult to cope with. Over the past two days, three animal corpses have already been found in the water," – the expert noted.
He added that in the future, the Black Sea should expect foul weather, algae blooms, deterioration of the food supply and, as a result, deterioration of the diversity of bioresources.
"It is difficult to make any specific forecasts of the situation now because of the cluttering of the Dnipro-Bug estuary," – Bulanovych added.
He also added that the authorities have now blocked access to the Kuyalnyk liman and closed the gateways to the Tiligul liman, so the water conditions there are the same as before the explosion at the Kakhovka HPP.
Anzhela Tkachenko, chief veterinarian inspector of Odesa region, noted that state experts are currently checking markets of Odesa region, and no cases of fish trade from the Black Sea have not been found yet..
"Children in health camps are provided with disposable tableware and bottled water. We are also checking retail chains and pharmacies to see if they are raising water prices, and no such cases have been recorded," – the expert added.
Read more: https://mediacenter.org.ua/news