Back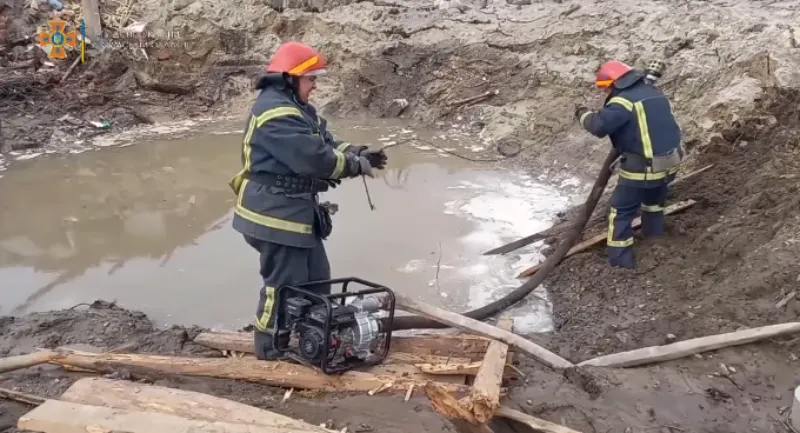 Фото ДСНС України
April 13, 2022, 14:56
The occupants killed more than 100 people in Sumy Oblast, the missing persons are being searched for, the losses dealt to the economy will amount to tens of billions of hryvnias, – Zhyvytskyi.
As of April 13, 2022, more than 100 case of murder of civilians killed by the occupiers in the Sumy region are known at present, a significant number of people are reported missing, they are now being searched for.
This was stated by Dmytro Zhyvytskyi, Head of the Sumy Regional Military Administration, at a briefing at the Ukrainian Media Centre taken place in Kyiv.
"More than 100 civilians were killed, but, unfortunately, this figure continues to grow every day. Bodies are being found: those with their hands tied, bearing signs of torture, shot to the head, these are unspeakable things. Many are unaccounted for, there are people who remain in captivity – a negotiation group is working on those cases. There are many citizens whose fate is still unknown. The shelled cars are being discovered on roads, highways and in forests, but it is not known for sure what happened to these vehicles passengers. There are many wounded in hospitals, many of those injured are hospitalized in neighboring provinces. Those people who endured the occupation, who witnessed the thousands of pieces of the hostile equipment convoys passed through their settlements, suffered very serious psychological trauma. The occupants shelled everything around, attacking civilians and elderly people with children in tank assaults, using machine guns and rocket launchers. Our people were hiding in the swamps, in agricultural facilities, in silage pits. The Russians were committing horribly terror acts in our Oblast," said Dmytro Zhyvytskyi.
According to him, critical infrastructure: gas, power and water supply are being restored in the province first and foremost.
In recent days power supply in the Sumy Oblast has been restored to almost 25 thousand consumers, about 500 more households still have no electricity.
"The travel by roads are being resumed. The process of demining is underway, the territory of the region is very heavily mined, we find mines, we find tripwire grenades installed. It is strictly prohibited to go into the forests, forest belts, to drive on the field roads," Zhyvytskyi said.
According to the Head of the Military Administration, the planting season has already begun in the province. Zhyvytskyi urges able-bodied citizens to return to their settlements as quickly as possible and get down to work.
"The sowing campaign has begun actively, therefore we ask persons of working-age to return, so we could sow the maximum area of our black soil, so that we could have a harvest and incomes. Everyone able to work must work, we need to rebuild the economy," – said Dmytro Zhyvytskyi.
He also noted that the province is actively restoring transport links those regional, interregional.
"I want to thank the Ministry of Infrastructure, Ukrainian Railways (Ukrzaliznytsia), we are restoring trains, we launch new ones, people use them. We start trains in Konotop, Shostka, Krasnopillia, Okhtyrka, Kyrykivka, Lebedyn, Romny and other settlements will have railway connection with Kharkiv Oblast from now on. Unfortunately, it is still difficult to resume communication with Kyiv through Konotop, but we are working on it jointly with the railroad workers," – added the Head of the Regional Military Administration.
According to preliminary estimates, the damages resulting from local infrastructure destruction exceeded 10 billion hryvnias. "It is still impossible to calculate the losses caused to the economy, uncollected profits, unpaid taxes, inoperative enterprises," Zhyvytskyi said.
The towns of Okhtyrka, Trostianets, Boromlia, Krasnopillia and Konotop district were the hardest hit areas suffering from the Russian invasion – it has already received 250 million hryvnias for priority work to rebuild.