Back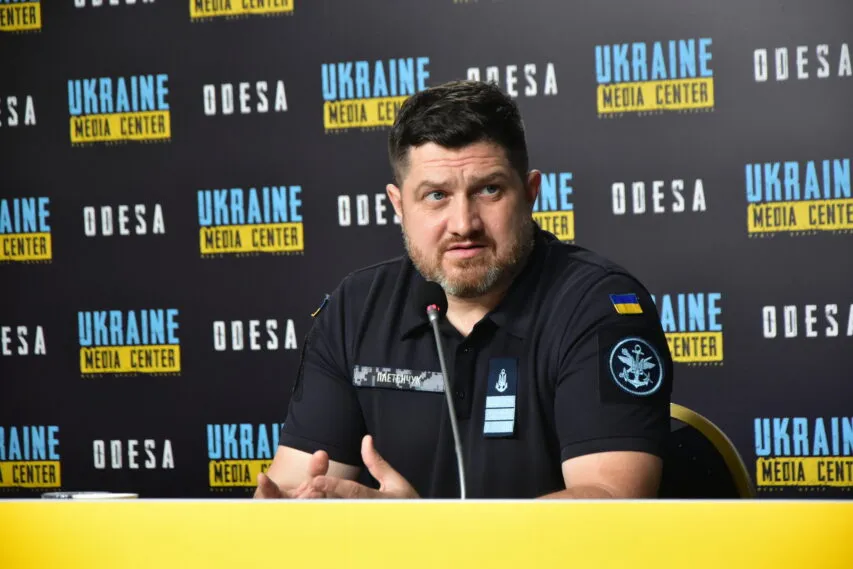 Photo by Media Center Ukraine – Odesa: Dmytro Pletenchuk, spokesman for the Ukrainian Navy
August 8, 2023, 14:36
The occupants have reduced their presence in the Black Sea, now there are only four ships in the sea
Ukrainian intelligence also does not observe missile carriers in the Black sea. This was stated by Dmytro Pletenchuk, spokesman for the Ukrainian Navy, at a briefing at the Media Center Ukraine – Odesa.
He noted that the situation in the Black Sea has been quite stable recently, but there are several differences.
"The first difference is that the occupiers have reduced the presence of their ships, now there are only four of them at sea and no missile carriers, one is currently undergoing repairs. But we have seen an increase in the activity of the so-called Russian border service in the Kerch Strait, there are now seven ships and seven boats there, and three more units in the Sea of Azov," – the officer said.
He added that the Ukrainian authorities had warned on July 20 that the Kerch Strait was a dangerous area for navigation.
"But the occupiers did not heed these warnings, which is why the incident with the large landing ship Olenegorskiy Gornyak occurred. According to our information, he is now fighting for the ship's survival. And it was because of the damage to this ship that the russians stopped using such ships as ferries to transport civilians," – the officer said.
He added that the russians started using ships in this way because of the damage to the Kerch Bridge, which is one of the supply routes for the southern group of Russian troops.
"There is a saying that Crimea will either be Ukrainian or uninhabited. And the modern russian Black Sea Navy will repeat the fate of its predecessor in the Crimean War of 1853-1856," – Pletenchuk noted.
Read more: https://mediacenter.org.ua/news