Back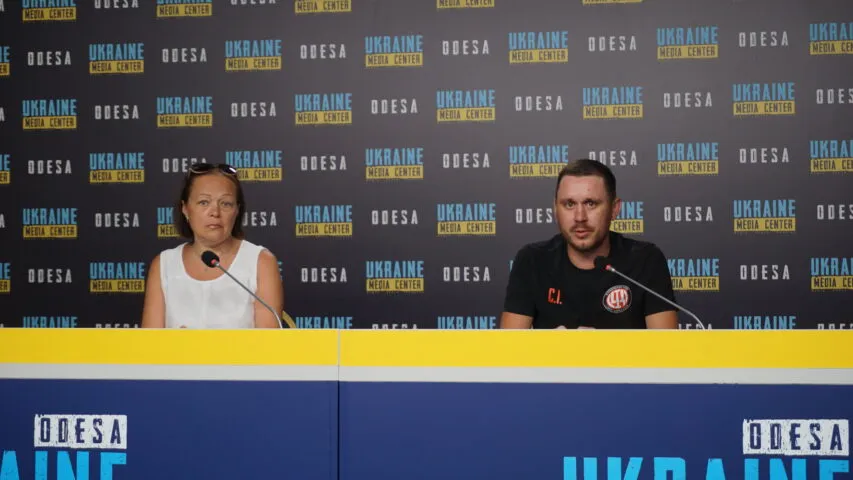 Photo by the Media Centre Ukraine - Odesa: Iryna Tsymbalar, widow of former Chornomorets player Ilya Tsymbalar; Serhii Tsymbalar, eldest son of former Chornomorets player Ilya Tsymbalar
August 22, 2023, 16:49
The eldest son and wife of the legendary Odesa footballer against the player's "Memory Match" in moscow
This was stated by Serhiy and Iryna Tsymbalar at a briefing at the Ukraine Media Centre – Odesa.
"My father played most of his career at Spartak, where he was treated unfairly," says Serhii. "Ilya had offers from the best clubs in Italy and Spain, but the moscow team did not let him go in time, and did so only in 1999 as a waste of time. When my father died in 2013, no one from Spartak, except Igor Ledyakhov, came to the funeral. An official letter was sent to moscow with a proposal to take part in the event, to help with the installation of the monument or the organisation of a match and a memorial evening. There was no response. As I found out later, the Spartak management decided to refuse because Tsymbalar was buried in Ukraine, in Odesa, not in russia. Ten years later, the russians decided to hold a match in his memory on their own. But no one asked our permission to hold this game. We are against such an event, we are ready to do everything to prevent it from happening," the footballer's son summed up.
One of the initiators of the match in memory of Ilya Tsymbalar was his younger son Oleg, who left for russia last year and does not communicate with his brother and mother.
"My brother did not inform us about the event. This is his choice, which we do not accept and we asked him not to mention us. The russian federation has tricked him and told him that he will be able to leave under his father's surname. Spartak wants to use my dad's name, to promote themselves and make money on it, but we did not give them this right. I don't understand how people can afford to hold such a match when missiles are flying over my father's grave, when Ilya's son and wife could be in a bomb shelter at that time."
Read more: https://mediacenter.org.ua/news