Back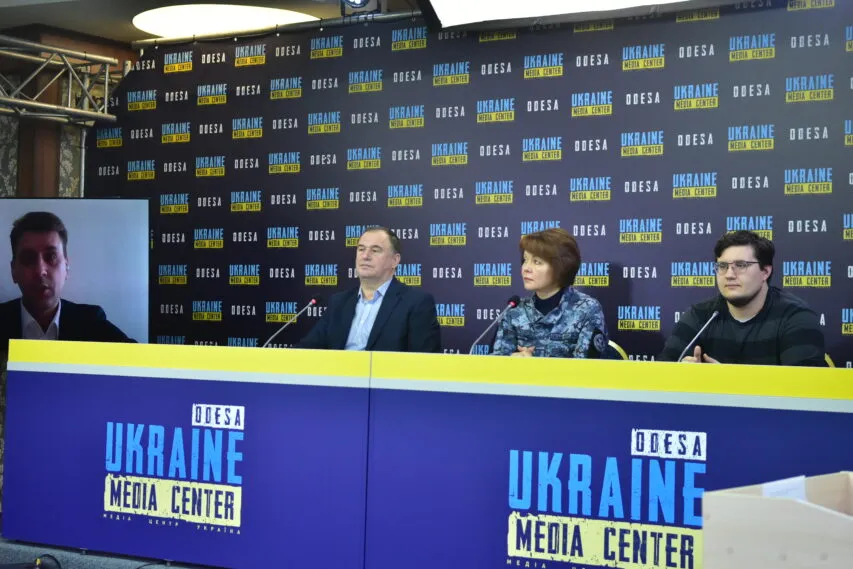 Photo by Media Center Ukraine – Odesa: Oleksandr Kovalenko, coordinator of the "Information Resistance" group, leading expert of Ukrainian Center for the Study of Security Problems; Andrii Savchenko, military expert; Natalya Gumenyuk, head of the Joint Coordination Press Center of the Defense Forces of Southern Ukraine; Stanislav Mankov, aviation technical specialist
January 11, 2023, 14:04
"The counteroffensive of Ukrainian forces is actually underway. It will be like in the Kherson region" – the military press officer of southern Ukraine
Ukrainian attacks on the enemy's rear and logistics, ammunition depots, reserves and logistical routes are actually elements of the Ukrainian army's counteroffensive. Nataliya Humenyuk, head of the United Coordination Press Center of the Defense Forces of Southern Ukraine, made this statement during a panel discussion at the Media Center Ukraine – Odesa.
"A counteroffensive operation is also about exhausting the enemy. Therefore, the counterattack is already underway. It will be like in Kherson region. Methodical work to destroy the enemy's stocks, reserves, and forces is also a counteroffensive. Active defense of the Ukrainian army is a counteroffensive. We do not allow the enemy to gain a foothold," the officer said.
She also added that the Ukrainian military needs long-range weapons for successful counteroffensive actions.
"The geography of the area that needs to be liberated is important because there are our people under occupation and our infrastructure, which we cannot destroy. That's why we need long-range weapons to work on logistics, on the rear, on the enemy's warehouses," Nataliya Humenyuk said.
Oleksandr Kovalenko, the coordinator of the "Information Resistance" group, noted that a counteroffensive can be expected on any part of the contact line. It can happen either in Luhansk region, or in Donetsk region, or in the partially occupied territory of Zaporizhzhya region, or in the left-bank of Kherson region.
"Each section of the front has its own specifics. And only the General Staff knows where and when the liberation of our territories starts. I believe that by the end of the winter period we will see counteroffensive actions. We have opportunities for a counteroffensive, and the General Staff will use them," the expert noted.
He also added that in view of the military aid provided in the last US package, it is possible to form assault battalion-tactical groups. "All new supplies of weapons are medium and lightly armored vehicles. We are talking about the Bradley M2 BMP, the French AMX, etc. If we combine them, we can create offensive assault groups," the specialist noted.
The supply of other weapons also indicates a possible counteroffensive, said Stanislav Mankov, a technical expert on aviation and missile weapons.
"Great Britain announced the transfer of Sea King helicopters. I hope this is just the first step. In addition, the Americans are transferring Sea Sparrow missiles, which can be used with the Buk complexes (NATO classification – SA-11 Gadfly). Also, 4,000 unguided Zuni missiles are handed over to us," the expert noted.
However, according to military expert Andriy Savchenko, Western weapons will not change the tactics and strategy of the war. "But today, with the available capabilities, we are able to deter the enemy and conduct offensive operations, as was the case near Kharkiv," Andriy Savchenko noted.
Read more: https://mediacenter.org.ua/news