Back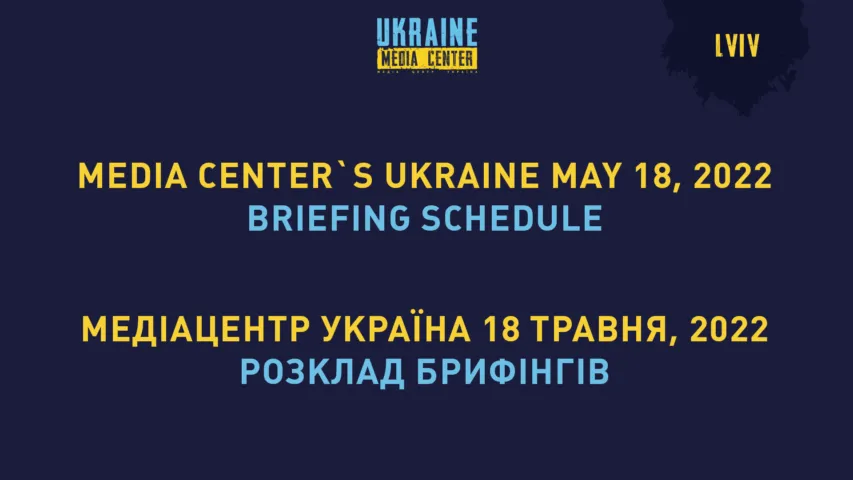 May 17, 2022, 17:53
SCHEDULE OF MEDIA CENTER UKRAINE EVENTS (LVIV, 32 RYNOK SQUARE) FOR MAY 18
9:30 AM – SPECIAL EVENT
Joint Press Conference by Representatives of Five Organizations of the UN System in Ukraine "The Humanitarian Crisis due to the War in Ukraine and the Response Undertaken by the United Nations."
Participants:
Saviano Abreu, United Nations Office for the Coordination of Humanitarian Affairs (OCHA)
Margaret Harris, World Health Organization (WHO)
Victoria Andrievska, United Nations Refugee Agency (UNHCR)
Paul Anthem, World Food Programme (WFP)
Viktoriia Mykhalchuk, Food and Agriculture Organization (FAO). (all in person)
11:00 AM—Alim Aliev, Co-founder of Crimea-SOS NGO and Deputy Director General of the Ukrainian Institute (online)
Issues:
the life in Crimea under the russian occupation;
the mobilization in the temporarily occupied peninsula;
the attitude of Crimea's residents to the war;
russians' crimes against Crimean Tatars.
Why is this important? The deportation (forced resettlement) of the Crimean Tatars to remote regions of the USSR started on May 18, 1944. The ethnic cleansing was carried out by the state security agency of the USSR on orders of Joseph Stalin based on the Resolution of the State Defense Committee of the USSR of May 11, 1944.
11:30 AM—Pavlo Kyrylenko, Head of Donetsk Oblast Military Administration (online)
Issues:
combat activities in the oblast;
shelling of Kramatorsk, Bakhmut, and other Ukrainian cities;
the humanitarian situation in the region
1:00 PM—Vadym Boichenko, Mayor of Mariupol (online)
Issues:
the evacuation of the military personnel from Azovstal Steel Works;
fighting in Mariupol;
the humanitarian situation in the city.
The Media Center will function as a co-working space from 10:00 AM to 8:00 PM.
Contact phone:
+38 067 652 91 97
Read more: https://mediacenter.org.ua/news