Back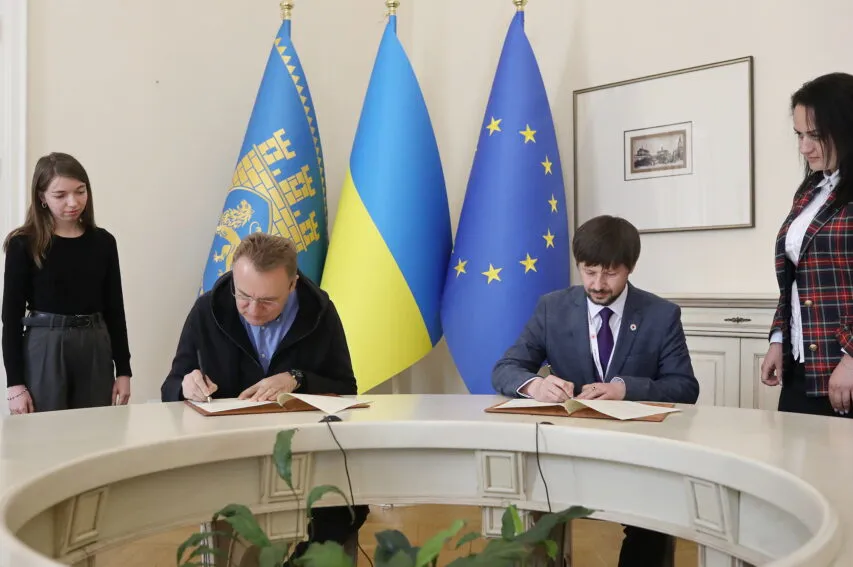 Фото: Роман Балук
May 1, 2022, 16:03
Temporary housing to be be built in Lviv for pregnant women fleeing the war
The Red Cross Society of Ukraine, with the assistance of the Lviv City Council, has begun construction of houses for pregnant women who have found refuge from the war in Lviv. According to the signed Memorandum of Cooperation, the organization will take care of the financial component of the project by investing UAH 26 million. The town for pregnant women is being set up in the area of ​​Trakt Hlynianskyi street.
Today, the Memorandum of Cooperation was signed between the Red Cross Society of Ukraine and the Lviv City Council on the construction of temporary accommodation for pregnant women who fled the battlefields for Lviv. According to Mayor Andriy Sadovyi, the project is planned to be implemented by mid-July.
«We started building houses for pregnant women together last week. We plan to complete the construction by July 15. These plans will be completed thanks to the phenomenal support of the Red Cross. The Society works quickly and shows very strong dynamics in the design, manufacture, delivery, installation, assembly and furnishing of the houses. It is an investment of UAH 26 million. We have also already started work to build one of the largest rehabilitation centers for the wounded in Ukraine, because thousands of people will need help. In particular, we are talking about women and children who were under fire and rocket attacks. This is a project to build a powerful regional center in Lviv, with the support of the whole world. It will be an honor for us to have the Red Cross as partner, because this way we will save the lives of many people,» – Mayor of Lviv Andriy Sadovyi said.
Therefore, two two-storey buildings with a total area of ​​1,300 square meters are being built in Lviv. Conditions for comfortable temporary resettlement of pregnant women with an IDP status will be organized in each of them: bedrooms, laundry, showers, toilets, lounges, children's areas, kitchens, dining rooms, boiler rooms. Such houses will provide temporary shelter for more than 100 women.
«We clearly understand how important is what we are doing for women who are there. We are all Ukrainians, and we are doing it for us and our state, our women and the next generation. In fact, our team is very comfortable working with the city, so the construction is progressing quickly. We will be able to complete it in a few weeks,» – the Red Cross Society of Ukraine Director-General Maksym Dotsenko said.
To recall, a modular town of 88 houses hosting about 350 forcibly displaced Ukrainians has already been deployed in Lviv on U. Samchuk street. At the same time, works on the modular towns on Pulyuya street and in Sykhiv district are being completed. Those will provide temporary housing for approximately 700 more migrants.
Read more: https://mediacenter.org.ua/news