Back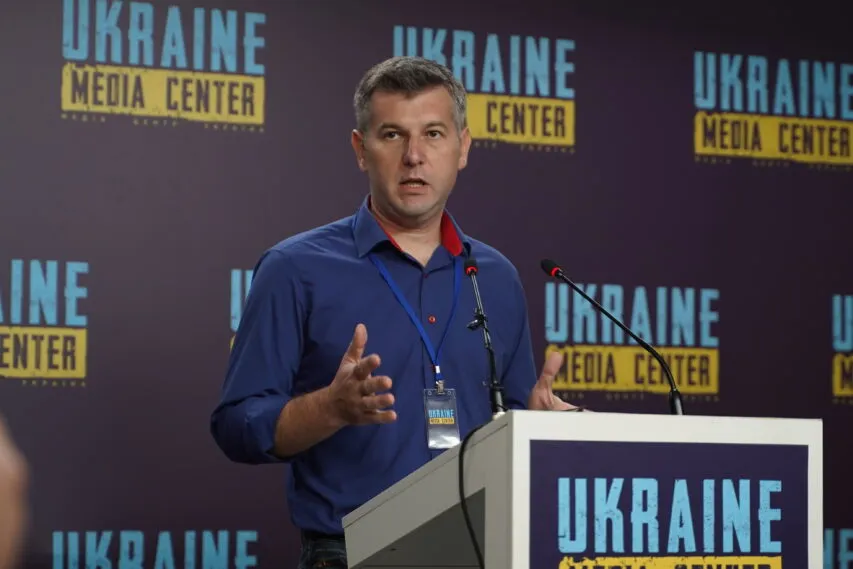 Юрій Самець, підприємець, у Медіацентрі Україна 27 липня 2022 року
July 27, 2022, 13:28
Support for businesses in Lviv: entrepreneurs can receive UAH 100,000-300,000 for development and compensation of expenses
In Lviv and on the territory of Lviv City Territorial Community, a commission, which will consider entrepreneurs' request for vouchers for financial assistance to support their businesses, is starting to work. Andriy Moskalenko, First Deputy Mayor of Lviv, spoke about this at a briefing at Media Center Ukraine.
"We are announcing the start of working groups responsible for selection. Application is already open. There will be three types of vouchers: compensatory, investment, and relocation. We're talking about help with the purchase of equipment if production needs to be scaled up. Vouchers will also help pay for utility services. This is one of the important items of expenses that entrepreneurs apply for. The third is direct rent payments", — the Deputy Mayor explained.
According to Iryna Kulynych, Chair of the Economic Development Department of Lviv City Council, this is not the first project of the City Council to help entrepreneurs. Previously, the commission, which consists of local deputies and entrepreneurs, already selected businesses that received assistance via marketing vouchers.
This time, the amount of aid will range from UAH 100,000 to 300,000. The selection will last one month, starting on August 1.
"The amount of the voucher ranging from UAH 100,000 to 300,000 will depend on the cost of the purchase that the entrepreneur will make… Compensation (vouchers) can cover energy carriers in business centers or other commercial property where displaced persons lived. Also, a compensation voucher will make it possible to compensate for losses as the result of shelling. It can be a voucher for replacement of windows, doors… Regarding relocation vouchers: we offer UAH 100,000 to relocated enterprises, those who re-registered in the city of Lviv," — Iryna Kulynych said.
Yuriy Samets, a local entrepreneur, Head of Supervisory Board at West Ukrainian Fashion Industry Cluster shared his experience of receiving voucher support from the Lviv City Council:
"Members of our Cluster took advantage of this opportunity, in particular, to reimburse a part of the costs of participating in exhibitions in Lviv, Kyiv, Dubai and London at the expense of marketing vouchers. From an entrepreneurial point of view, the amount is not enough to build a brand, but enough to take the first step. It is enough to have the logo of the city community, next to your logo and the logo of the Cluster behind your back at an international exhibition. People see it and understand that there is support, and this changes the attitude towards the brand itself and its representation on the international arena. The program works, it's very simple, there are no 25-page applications, so I invite you to use it," — Yuriy Samets explained.
Read more: https://mediacenter.org.ua/news