Back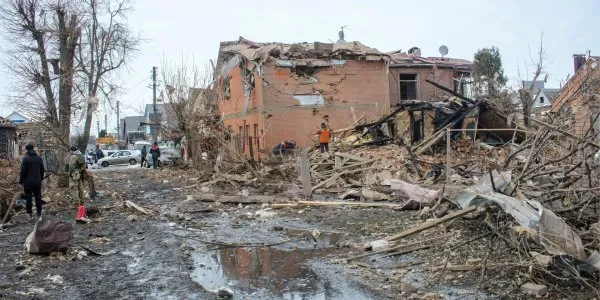 April 20, 2022, 15:38
Sumy Oblast was shelled from Russian territory by "Grad" multiple rocket launcher, Chernihiv Oblast attacked with mortars, – State Border Guard Service
Under the operation aimed at regaining control over the state border within the Kyiv, Chernihiv and Sumy Oblasts, border guards together with the Armed Forces of Ukraine have already taken their duties in the offices in the bordering province and others home stations, and further along the state border to the checkpoints. The total length of the state border in these three regions is 1200 kilometers.
This was stated by Andrii Demchenko, spokesman for the State Border Guard Service of Ukraine at a briefing at the Ukrainian Media Centre, taken place in Kyiv.
"The terrain reconnaissance in border areas and development of the positions are being performed, the construction of strongholds, observation points and checkpoints, as well as other certain places of border guards duty locations is underway. There is no usual border security, because the danger of mines, enemy sabotage and reconnaissance groups activities as well as hostile attacks from bordering territory persists," Demchenko said.
According to Demchenko, border guard units have already documented instances of russia launching attack on the Sumy Oblast territory with "Grad" multiple rocket launcher and attacking Chernihiv Oblast by mortars.
"One of the days, the enemy attacked Chernihiv Oblast with mortars three times on the other side of the border. Shells hit near the village of Sinkivka, an enemy drone was constantly circling over the area. In the direction of Sinkivka a border guard unit detected a group of armed people trying to enter the territory of Ukraine. Fire was opened at the unknown assailants, whereupon they withdrew. Surveillance and reconnaissance groups operating in Chernihiv Oblast continue to discover caches of weapons, ammunition and missiles left behind by russian soldiers," Demchenko said.
He also added that on the other side of the Ukrainian border in certain directions opposite Chernihiv and Sumy Oblasts, the enemy conducts positions hardening and observation points arrangement. Separate movements of military equipment have been observed in the russian border area.