Back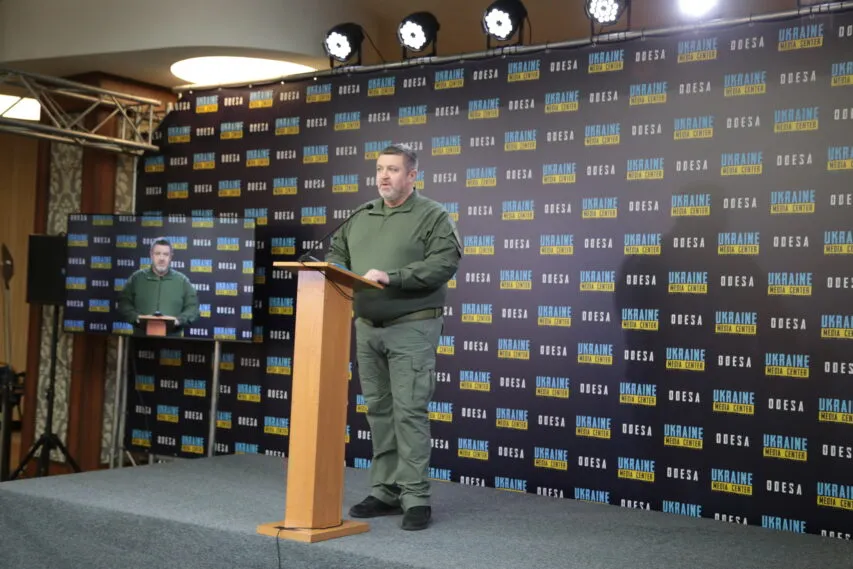 Photo by Media Center Ukraine — Odesa: Serhii Bratchuk, Spokesman for the Head of the Odesa Oblast Military Administration
November 4, 2022, 16:23
"The threat level of missile attacks and drones remains very high," – Odesa military administration
Serhii Bratchuk, spokesman for the Head of the Odesa oblast Military Administration, stated this during a briefing at the Media Center Ukraine — Odesa.
"The threat level of missile and drones attacks remains very high. These are the realities of our time, our region is no exception," said Serhii Bratchuk.
He reminded that since the beginning of this week there have been several waves of attacks on Ukraine, on Odesa oblast in particular – the enemy attacked from the Caspian Sea and from planes that took off in Volgodonsk, and from missile carriers in the Black Sea. And on November 2, 3 Kha-59 cruise missiles were launched from the Su-30 aircraft towards the south of Odesa, all of them were shot down over the Black Sea.
For more information +380500895830
Email: [email protected]
Find us here:
Website: https://mediacenter.org.ua/
Twitter: https://twitter.com/CenterUkraine
Facebook: https://www.facebook.com/UkraineMediaCenter
YouTube: https://www.youtube.com/channel/UCakUdCyDNCdzfosJN2fAWpw
Telegram: https://t.me/mcu_odesa
Read more: https://mediacenter.org.ua/news