Back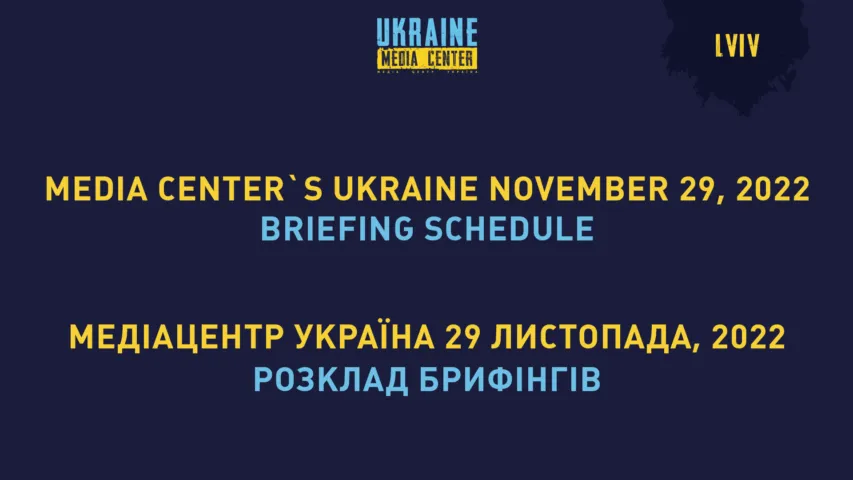 November 28, 2022, 18:00
SCHEDULE OF MEDIA CENTER UKRAINE EVENTS (LVIV, 32 RYNOK SQUARE) FOR NOVEMBER 29
Dear journalists,
Due to the unstable situation with electricity, the schedule of briefings is subject to change. Please follow our announcements.
11:00 AM — Olga Trofimtseva, Ambassador at Large with the Ministry of Foreign Affairs of Ukraine, Coordinator of the Exporters and Investors Council (online)
Topics of focus:
– On the Grain from Ukraine initiative in numbers and facts: what it is and how it will work
– Interaction of the Grain from Ukraine with the grain initiative
– Countries that will receive aid: which ones and in what amount
– Which countries will finance grain supplies
– Which Ukrainian enterprises will participate in the program and under what conditions.
For reference: Ukraine is launching the Grain from Ukraine initiative, according to which up to 60 ships with Ukrainian grain are to be sent to the poorest countries in Africa, which are already facing a threat of famine. According to the program, grain will be provided to at least 5 million people by the end of spring 2023. 22 countries have already joined the initiative. In total, USD 150 million have already been collected to fund the initiative.
11:30 AM — Olena Korobkova, Chair of the Board of the Independent Association of the Banks of Ukraine (online)
Topics of focus:
– The state and stability of the banking system after 9 months of war
– The banking system and blackouts: how the banking sector survives
– Exchange rate forecast for the winter of 2022-2023.
12:30 PM — Anna Derevyanko, Executive Director of the European Business Association (online)
Topics of focus:
– Ukrainian business after 9 months of war
– The consequences of the blackout for Ukrainian business
– Support for business from the state.
From 10:00 AM to 6:00 PM, the Media Center functions as a co-working space.
For more information:
+38 067 652 91 97
Read more: https://mediacenter.org.ua/news