Back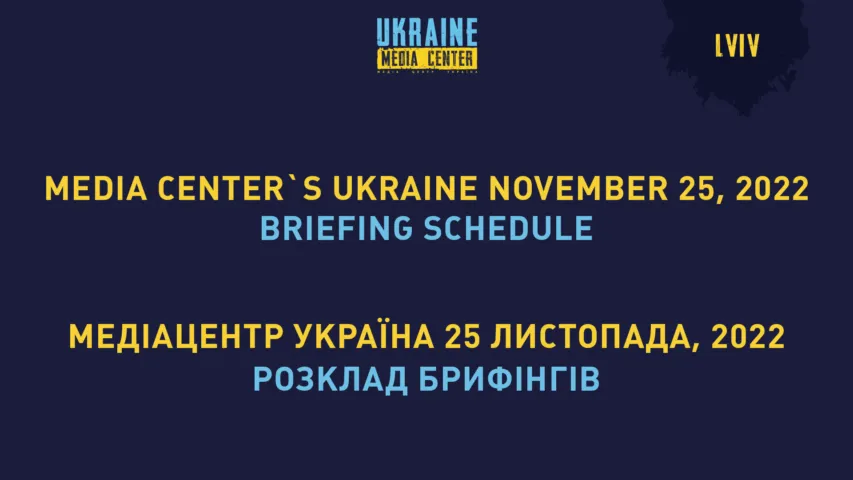 November 24, 2022, 17:22
SCHEDULE OF MEDIA CENTER UKRAINE EVENTS (LVIV, 32 RYNOK SQUARE) FOR NOVEMBER 25
Dear journalists,
Due to the unstable electricity situation, the schedule of briefings may be changed. Please follow our announcements.
11:00 AM — Andrii Moskalenko, First Deputy Mayor of Lviv
Roman Tymotsko, Online Map Developer
(in person)
Why is this interesting?
An interactive map of public locations, where people can charge their devices if there is no electricity at home or in the office, was created in Lviv. Places with their own shelters are also mapped. Lviv residents are asked to send their ideas and comments to improve the map.
11:30 AM — Hryhorii Plachkov, Former Head of State Nuclear Regulatory Inspectorate (online)
Topics of focus:
The state of nuclear power after massive shelling
Emergency shut-downs and launches of nuclear power plants: the consequences
1:00 PM — SPECIAL EVENT
Discussion on the topic: "Victory Generation: How Ukrainian Youth Live During the War"
Speakers:
Stanislav Hvozdinskyi, Representative of the Youth Policy Department, Student Mayor of Lviv
Mariana Faryniak, Project Manager of the "Building Ukraine Together" project
Nazar Kiryk, Deputy Chair of "Plast" in Lviv
Rostyslav Radysh, Head of the "Center for United Solutions" public organization
Ostap Pona, GlobalLogic Engineer
Topics of focus:
Volunteering drivers: why helping others is so popular among young people
Smartphone as a weapon: how the generation of messengers and social media overcomes russian propaganda
How to charge your batteries: where to look for motivation
Call of the Motherland: how to bring home those who have left
Life after: what will Ukrainian youth look like after the victory
Duration of the discussion: about 1 hour
Admission: free
Visitors are requested to come 10 to 15 minutes before the event starts
From 10:00 AM to 6:00 PM, the Media Center functions as a co-working space.
For more information:
+38 067 652 91 97
Read more: https://mediacenter.org.ua/news