Back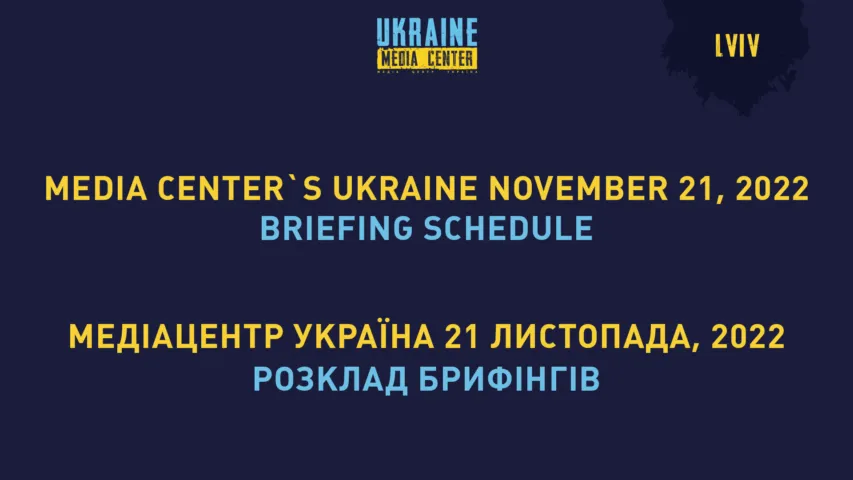 November 20, 2022, 15:13
SCHEDULE OF MEDIA CENTER UKRAINE EVENTS (LVIV, 32 RYNOK SQUARE) FOR NOVEMBER 21
11:00 AM — Guy Hoffmann, Colonel, National Armaments Director and Coordinator of Luxembourg's Military Assistance to Ukraine (online)
Topics of focus:
Provision of Ukraine with 3D scanners for recording the war crimes in the de-occupied territories
Assistance by Luxembourg to Ukraine
12:00 PM — Iryna Shvaiko, Head of the Projects and Events Department of Lviv Oblast Military Administration
(in person)
Why is this interesting?
On Monday, November 21, Lviv region will host the events on the occasion of the Day of Dignity and Freedom and the 9th anniversary of the Revolution of Dignity beginning.
1:00 PM — Dmytro Zhyvytskyi, Head of Sumy Oblast Military Administration (online)
Topics of focus:
Consequences of russian attacks on Sumy region
Preparation of the region for winter; the condition of the critical infrastructure
Buffer zone on the border with the russian federation
From 10:00 AM to 6:00 PM, the Media Center functions as a co-working space.
For more information:
+38 067 652 91 97
Read more: https://mediacenter.org.ua/news