Back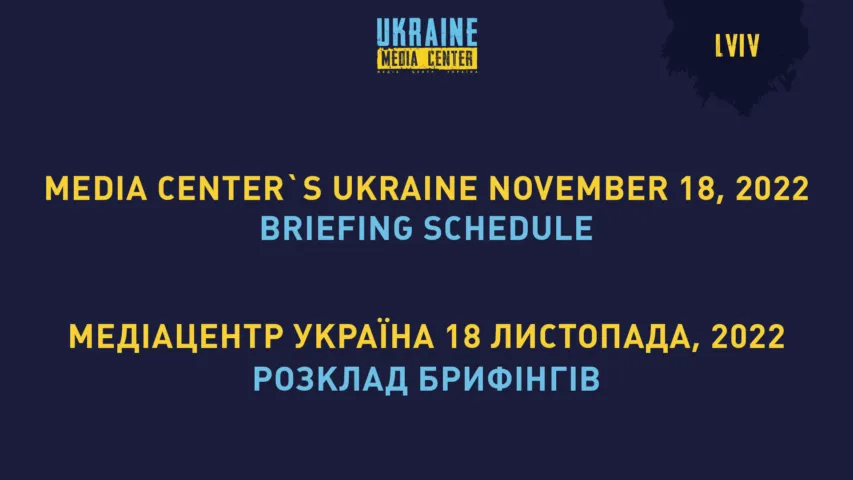 November 17, 2022, 18:00
SCHEDULE OF MEDIA CENTER UKRAINE EVENTS (LVIV, 32 RYNOK SQUARE) FOR NOVEMBER 18
11:00 AM — Ivan Baran, Deputy Chief of Staff — Head of the Department for Border Control Organization of the 7th Carpathian Border Detachment, Lieutenant Colonel
Serhii Kurylo, Deputy Chief of Staff — Head of the Department for Border Control Organization of the 7th Carpathian Border Detachment, Major
(in person)
Topics of focus:
– The situation at checkpoints in Lviv region
– The rules for crossing the border under martial law
– The results of border guards' work.
– Arrests of men liable for military service for attempting to violate the state border outside checkpoints.
1:00 PM — SPECIAL EVENT
Discussion "Discrimination and violence — do we need to talk about it during the war?" UN Security Council Resolution 1325 — Women. Peace. Security"
Participants:
Solomia Rybotytska, Deputy of Lviv Oblast Council, Head of "Equal Opportunities" deputy group
Natalia Karpenchuk-Konopatska, President of Women's Business Chamber of Ukraine
Olha Lishyk, UN Women Project Specialist, Head of "Women of Luhansk Region" Public Association
Svitlana Kalinina, Career Advisor at VONA (She) national career hub
Tetiana Sai, Deputy of Busk City Council and Krasne Village Council
Feodosia Kolesnyk, Head of "Feodosia Kolesnyk European Education Center" NGO
Iryna Klymovych, Journalist, Public Activist, Head of "Kadryky" Educational Center
Event Moderator — Natalia Starepravo
Co-Moderator — Dana Mekhedova – Member of the Council-Head of the Humanitarian Policy Development Department of "Union of Women of Ukraine" all-Ukrainian Public Association; Chairwoman of the Board of the Union of Women of Lviv Region NGO, Neuropsychologist.
Issues to be discussed:
– Finding tools for interaction between state and public institutions to overcome all forms of discrimination and violence
– Separately, we'll pay attention to the following question: Can the "language issue" be considered one of the types of discrimination?
– Peacemaking is the role of women!
Pre-registration form is available at the link.
From 10:00 AM to 6:00 PM, the Media Center functions as a co-working space.
For more information:
+38 067 652 91 97
Read more: https://mediacenter.org.ua/news