Back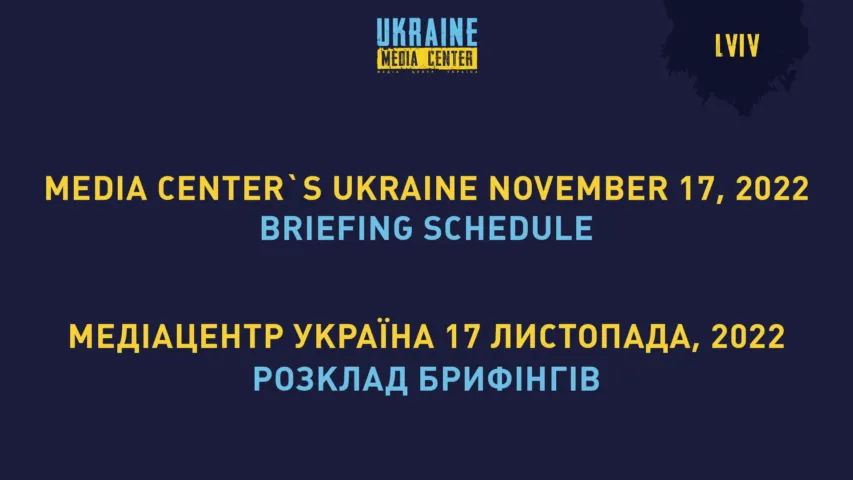 November 16, 2022, 17:54
SCHEDULE OF MEDIA CENTER UKRAINE EVENTS (LVIV, 32 RYNOK SQUARE) FOR NOVEMBER 17
11:00 AM — Natalia Bunda, Director of the Development Department, Acting Head of the Office for Cultural Affairs of Lviv City Council
Pavlo Hudimov, Curator of Lviv Sculpture Week, Art Manager of "Ya Gallery"
Orest Holubets, Professor, Head of Art Ceramics Department at the Lviv National Academy of Arts
Oleh Kapustyak, Lviv Sculptor
(in person)
Why this is interesting:
Lviv Sculpture Week will take place in Lviv for the first time. The main theme of this year's event is chaos. The event will last from November 19 to 27 at "Ya Gallery" art center.
12:00 PM — Oleh Paska, Director at the Department for Education and Science of Lviv Oblast Military Administration
(in person)
A briefing on the occasion of Students' Day
Topics of focus:
The number of students in Lviv region who passed the multi-subject test with 600 points (maximum score)
Student initiatives in the region, which are successfully implemented in the conditions of war
Competition for scientists in training, which will be held in Lviv region next year.
1:00 PM — Tetyana Hetman, Director of the Agro-Industrial Complex Department of Lviv Oblast Military Administration
Kateryna Tarasenko, Co-Founder of "Carpathian Gadzy (Household Owners)" cooperative, who evacuated from Luhansk region in 2014 and at the beginning of the all-out war created a shelter for IDPs.
(in person)
Topics of focus:
The work of agrarian sector of the Lviv region during the war
Activities of farmers, in particular representatives of relocated businesses, who started working in Lviv region after February 24.
The briefing will also include a presentation of Lviv Craft Fair within the framework of Livelihoods Stabilisation and Enterprise Recovery Project (UNDP). The Fair will be held on November 20 to celebrate Agricultural Workers' Day.
2:00 PM — SPECIAL EVENT
Panel discussion entitled "The Generation of Victory: How Ukrainian Youth Live During the War"
Participants:
Yuriy Didula, Director of Building Ukraine Together program
Rostyslav Radysh, Head of Center for Combined Solutions NGO
Oleh Malets, Head of TVORY! network of youth spaces
Maryna Pinkevych, Communications Manager at Plast in Lviv
Ostap Pona, engineer at GlobalLogic
Topics of focus:
– Driving force for volunteering: why helping others is so popular among the youth
– The smartphone as a weapon: how the generation of messengers and social networks overcomes russian propaganda
– How to recharge: where to look for motivation
– The call of the Motherland: how to bring home those who have left
– The life after: what Ukrainian youth will be like after the victory
The discussion will last for about an hour
The attendance is free
The attendees are required to arrive 10-15 minutes before the beginning of the event.
From 10:00 AM to 6:00 PM, the Media Center functions as a co-working space.
For more information:
+38 067 652 91 97
Read more: https://mediacenter.org.ua/news