Back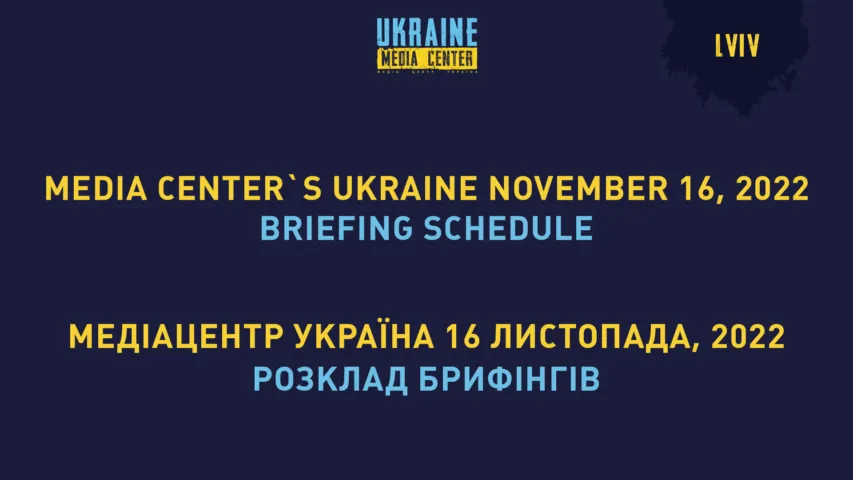 November 15, 2022, 17:48
SCHEDULE OF MEDIA CENTER UKRAINE EVENTS (LVIV, 32 RYNOK SQUARE) FOR NOVEMBER 16
10:30 AM — Anzhela Slobodyan, Journalist who survived the occupation of Kherson (online)
Topics of focus:
– Life and work in occupied Kherson
– Being held in Russian captivity
– How she managed to leave the occupation
Why this is interesting:
After the start of the all-out war, Anzhela Slobodyan worked as a correspondent in Kherson, but was captured by the russians because of her professional activities. In the end, she managed to get free and leave the occupation.
11:00 AM — Alina Deineka, Organizer of Youth Speak Forum
Iryna Balych, Manager of Educational Projects for Youth at AIESEC in Lviv (in person)
Why this is interesting:
For the fifth time, the All-Ukrainian youth event "Youth Speak Forum" will be held in Lviv, where modern youth meet with the corporate and state sectors to move the country forward. The purpose of the forum is to show the importance of balance, drive and ability to use opportunities and everyone's strength of spirit in a difficult period for the country.
11:30 AM — Oleksandr Kharchenko, Director at the Energy Industry Research Center (in person)
Topics of focus:
– Consequences of russian shelling on energy infrastructure on November 15
– Power supply in the de-occupied territories
– Are there enough capacities to provide electricity to the entire territory of the state
–        Efficiency of rolling blackouts
1:00 PM — Maksym Kozytskyy, Head of Lviv Oblast Military Administration

Andrii Sadovyi, Mayor of Lviv

(in person)
 
Topics of focus:
– The aftermath of the russian rocket strikes on Lviv region
– The work of the rescuers and communal services
From 10:00 AM to 6:00 PM, the Media Center functions as a co-working space.
For more information:
+38 067 652 91 97
Read more: https://mediacenter.org.ua/news