Back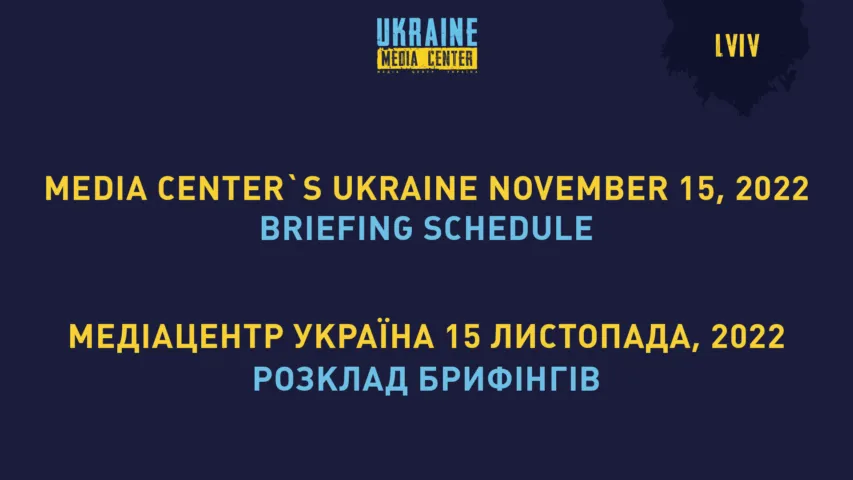 November 14, 2022, 18:09
SCHEDULE OF MEDIA CENTER UKRAINE EVENTS (LVIV, 32 RYNOK SQUARE) FOR NOVEMBER 15
10:00 AM — Nataliia Nestor, Deputy Research Director of the Kyiv Scientific Research Institute of Forensic Expertise of the Ministry of Justice of Ukraine (in person)
Andrii Haichenko, Deputy Minister of Justice of Ukraine (online)
Artem Yukhin, CEO at Artec 3D in Luxembourg (online)
Why is this interesting?
Luxembourg has sent 30 3D scanners to Ukraine, which can be used to scan vast territories and collect evidence of war crimes committed by russians. The assistance package includes not only scanners, but also internal software that allows users to scan large areas with all the objects found there. The information is then processed by the computer. In total, the project costs EUR 1.3 mln.
12:00 PM — Artem Boiko, Marketing Director of UNIT.City (online)
Topics of focus:
Results of Web Summit 2022 in Lisbon
Ukraine's participation in the summit: why it is important
For reference:
Web Summit is a technology conference that has been held annually since 2009. This year, during Web Summit 2022 in Lisbon, Ukraine presented its own pavilion, which was visited by about 10,000 people on the first day alone.
1:00 PM — SPECIAL EVENT
Panel discussion on the topic: "Sustainability of Ukrainian Companies: Dialogue Between Businesses and Cities"
Participants:
Andrii Moskalenko, Deputy Head of the Lviv City Council
Nestor Shvets, Chief Lawyer of the Lviv IT Cluster, Head of the BCP team of the Lviv IT Cluster
Anna Shcherbakova, Vice President and Chief Operating Officer at GlobalLogic in Ukraine (online)
Ihor Kostiv, Junior Vice President for Engineering, GlobalLogic Ukraine
Issues to be discussed include:
– How a city prepares for a possible blackout
– What is BCP and the components of a business continuity plan?
– How a company should prepare for infrastructure sustainability: communications, Internet, light, heat, energy
– Communication with the team and community: how to do it efficiently
– Continuation of effective cooperation with international partners and clients
Duration of the discussion: about 1 hour
Admission: free
Visitors are requested to come 10 to 15 minutes before the event starts
From 10:00 AM to 6:00 PM, the Media Center functions as a co-working space.
For more information:
+38 067 652 91 97
Read more: https://mediacenter.org.ua/news