Back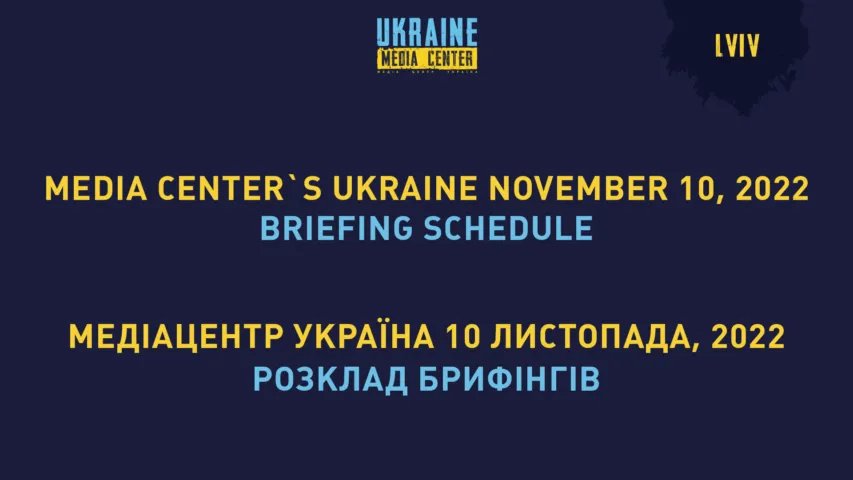 November 9, 2022, 18:32
SCHEDULE OF MEDIA CENTER UKRAINE EVENTS (LVIV, 32 RYNOK SQUARE) FOR NOVEMBER 10
1:00 PM — Anton Semenov, CEO at the Ukrainian Research Institute of Defense Technologies
Maksym Maksymov, Director of Technology at the Ukrainian Research Institute of Defense Technologies
Olga Guzhva, Project Manager – Ukraine Voices, Institute for War & Peace Reporting (IWPR)
(in person)
Why is this interesting?
Ukrainian Research Institute of Defense Technologies, in cooperation with the personal protective equipment plant, developed recommendations for journalists on the use of personal protective equipment and a special protective set: bulletproof vests, hard hats, a set of necessary sub-bags, a total of 21 items.
All this will be presented by the briefing participants at the Media Center Ukraine.
2:00 PM — Orest Chemerys, Director at the Department of Health of Lviv Oblast Military Administration
Nataliia Ivanchenko, General Director at the Lviv Regional Center for Disease Control and Prevention of the Ministry of Health of Ukraine
(in person)
Topics of focus:
Influenza type A cases have been reported in Lviv region: the dangers of this disease
General epidemic situation in the region
2:30 PM — Yevheniya Kravchuk, People's Deputy, Deputy Head of the Committee of Verkhovna Rada of Ukraine on Humanitarian and Information Policy (online)
Topics of focus:
Midterm results of the U.S. congressional elections
Possible consequences of the U.S. elections for Ukraine
From 10:00 AM to 6:00 PM, the Media Center functions as a co-working space.
For more information:
+38 067 652 91 97
Read more: https://mediacenter.org.ua/news