Back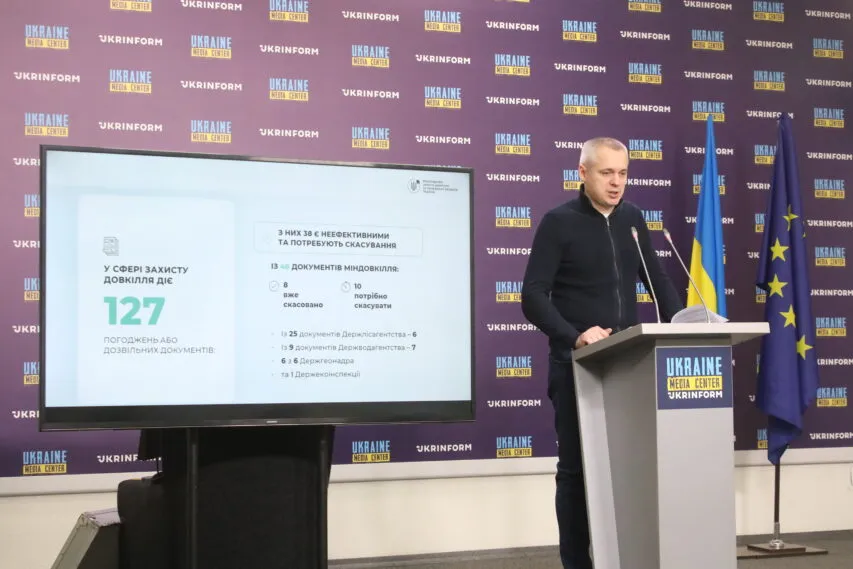 Yevhenii Fedorenko, Deputy Minister of Environmental Protection and Natural Resources of Ukraine, Media Center Ukraine — Ukrinform
December 28, 2022, 15:44
"Out of 127 environmental approvals or permits currently in effect, 38 are ineffective and need to be canceled," Deputy Minister
Currently, there are several dozens of ineffective documents in the field of environmental protection of Ukraine that are not needed by a modern digital state. Yevhenii Fedorenko, Deputy Minister of Environmental Protection and Natural Resources of Ukraine made this statement during the briefing entitled "Digital Deregulation in Environmental Protection" at Media Center Ukraine — Ukrinform.
"We discovered those approvals and authorization documents that are actually invalid and dead at the moment. They are a part of the legislation, but they have not been working for a long time. In particular, out of 127 environmental approvals or permits in effect, 38 are ineffective and require cancellation. We are not talking about canceling what is extremely necessary for the state today, but primarily about those novelties that were introduced dozens of years ago, but in today's conditions they do not work and are not needed by the modern digital state," — Fedorenko said.
The deputy minister explained why this issue is relevant now, and not only after Ukraine's victory.
"The country in the process of recovery needs a solid bureaucratic system that is understandable for potential investors so that the investor can plan several years ahead and clearly understand what procedures he needs to go through and how long each procedure will last. That's why we, the Ministry of Environment, set an ambitious plan to digitize or make changes to permit documents in 3 years," — the Deputy Minister added.
Read more: https://mediacenter.org.ua/news