Back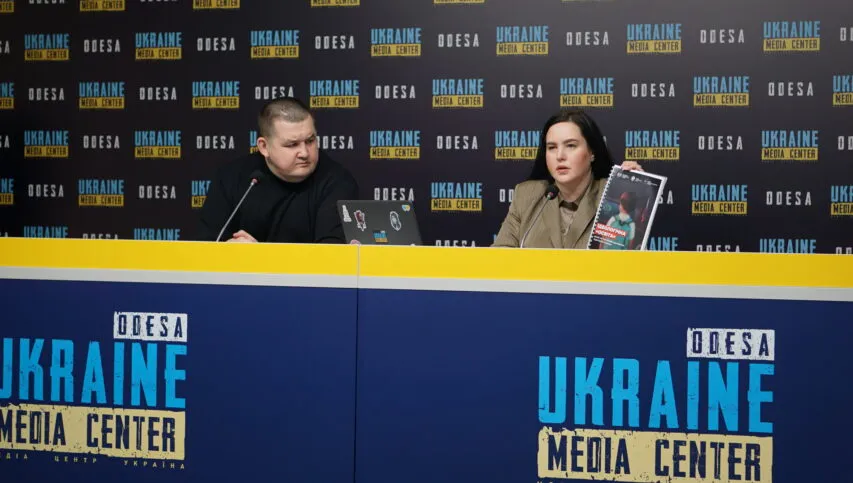 Photo by Media Center Ukraine – Odesa: Pavlo Lysyanskyi, human rights activist, director of the Institute for strategic studies and security; Vira Yastrebova, director of the "Shidna Pravozahisna grupa" (Eastern Human Rights Group)
March 17, 2023, 15:38
By the end of 2023, the invaders planned to "process" more than 3.3 million Ukrainian children in the occupied territories ideologically
They set this goal in mid-2022. This information at a briefing at the Media Center Ukraine – Odessa was published by the authors of the study "Ideological" Education "of children in the temporarily occupied territories of Ukraine" Pavel Lysyansky, human rights activist, director of the Institute of strategic studies and security and Vira Yastrebova, director of the "Shidna Pravozahisna grupa" (Eastern Human Rights Group)
According to Pavel Lysyansky, the Kremlin tries to create a generation that will be ideologically directed against the West and Ukraine.
"This processing takes place in several stages. Initially, the historical education through which the history of the aggressor is needed. Then military-patriotic clubs are created. This is a different level. They already have a combination of ideology and weapons. They heroize the fighters: our people picked up a weapon, now you have to do so. And they say who exactly you should kill. In the media, they compare Ukrainian politicians to the German Reich. This is what they do to children from the first grade of school, " – Pavel Lysnyansky said.
According to human rights activists, such 'education' has been conducted in the so-called Donetsk and Luhansk people's republics since 2015
"Since 2015, 8437 children on the territory of Orlo were involved in the militarization by the russian federation through educational institutions and through various Cossack and Cadet Corps that were created in the so-called LDPRs in 2017-2018," – Vira Yastrebova said.
"If you study all the ideological materials, you can conclude they gonna repeat military aggression in 5–10 years. Perhaps against other countries. For example, against Northern Kazakhstan. They want to make us enemies of the children whom they are subject to ideological processing. By the end of 2023, the invaders planned to "process" 3 million 310 thousands Ukrainian children in the occupied territories ideologically" – the human rights activist added.
According to Pavel Lysyansky, both the deportation of children, and ideological education are the facts of the destruction of the Ukrainian nation and the act of genocide. "Therefore, I disagree with the conclusions of the United Nations Commission, which found signs of war crimes in Ukraine, but did not find signs of genocide of the Ukrainian people," – the human rights activist added.
The full text of the report can be read here.
Read more: https://mediacenter.org.ua/news