Back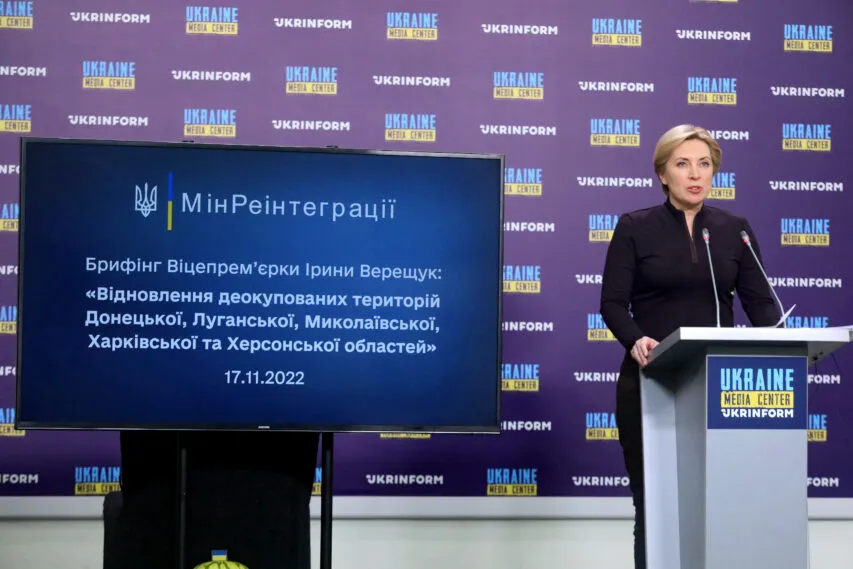 November 17, 2022, 20:37
25,420 people evacuate from de-occupied territories; vulnerable categories of population recommended to leave, state provides help — Ministry of Reintegration
Voluntary evacuation continues in the de-occupied territories, and 25,420 people have already left. Iryna Vereshchuk, Vice Prime Minister – Minister for the Reintegration of Temporarily Occupied Territories of Ukraine made this statement at a briefing at Media Center Ukraine — Ukrinform.
"The evacuation process is ongoing. We emphasize that it is voluntary. Our task is to give people a choice. They can contact us at phone number 1548, write to the chat-bot, contact authorities of the oblast military administration to say they want to evacuate. They should know where they will go, what awaits them there and what they can count on," — Vereshchuk said.
According to the Minister, as of November 15, 2022, a total of 25,420 people, including 2,625 children and 588 people with reduced mobility, were evacuated from the de-occupied territories. The state is ready to financially support people who were under occupation and have a desire to evacuate. Two evacuation corridors are being prepared: from Kherson through Mykolaiv, and from the right bank, closer to Dnipropetrovsk region, through Kryvyi Rih.
"Considering that things will be difficult with electricity and heating, we recommend that women with children and people with reduced mobility, vulnerable categories, go to the west of Ukraine. We promise that we will help. We are ready to provide everyone with free accommodation, food, and full support. The territories are already de-occupied, give a little time to the State Emergency Service, electricians, people who are restoring (the territories) — and we will return to better conditions", — Iryna Vereshchuk explained.
Read more: https://mediacenter.org.ua/news