Back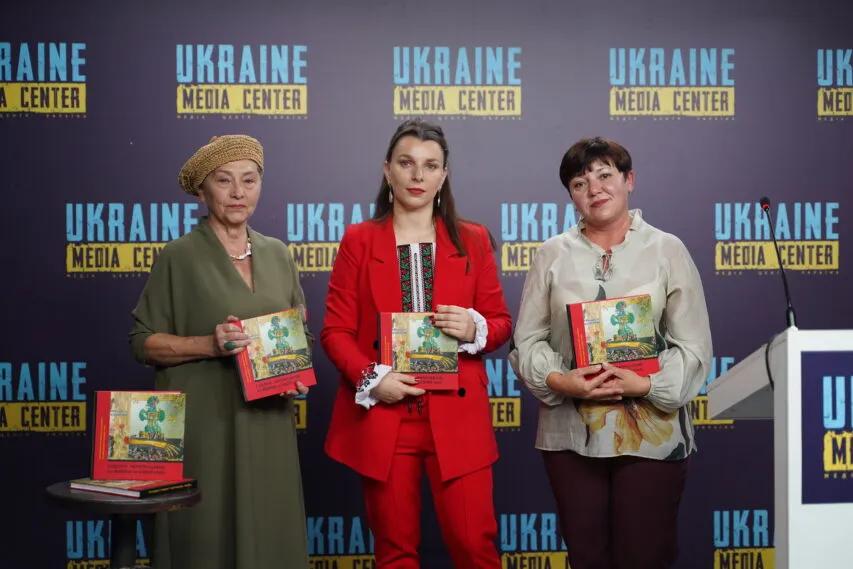 Feodosia Kolesnyk, Head of "Feodosia Kolesnyk European Education Center" NGO, Svitlana Vavrin, Senior Lecturer at the Department of Ukrainian and Foreign Languages of the National University of Veterinary Medicine and Biotechnology of Lviv, Olena Rybalova, architect (Kharkiv), a retiree who attends the language club
September 15, 2022, 14:12
"Speak Ukrainian Because You Live on Your Native Land:" a Handbook for Ukrainians Reverting to Their Mother Tongue Was Presented at Media Center Ukraine
A handbook, Speak Ukrainian Because You Live on Your Native Land, was presented during a Media Center Ukraine briefing. It was developed for the Ukrainians reverting to their mother tongue. The handbook was developed for a free Ukrainian course with the same name offered by Feodosia Kolesnyk European Education Center NGO.
"The handbook has 30 lessons with two sections each. The first section is a short grammar guide with exercises to consolidate the material. The second section familiarizes the learner with the modern literature, music, arts, and culture in general as it is being shaped and developed during the war, Feodosia Kolesnyk, Head of Feodosia Kolesnyk European Education Center, said.
The book offers interesting interviews and works of prominent Ukrainians and deals with challenges they faced when reverting to their mother tongue. The handbook is expected to become available in bookstores very soon.
"I can only say that this handbook is extremely relevant. Like Feodosia, I am experienced in teaching Ukrainian at language schools for IDPs fleeing the war who found shelter in our city. Usually, a teacher faces a shortage of materials because these people are not students who have to learn some rules of grammar or punctuation. Feodosia offered a good example of linguistic education based on learning the language by immersing in the culture because the Ukrainian language offers a key to the Ukrainian culture, where you become a part of the process, looking at Ukraine from within," Svitlana Vavryn, senior lecturer at the Department of Ukrainian and Foreign Languages of the Lviv National University of Veterinary Medicine and Biotechnologies, said.
A course based on the new handbook will start next week. It is available both offline and online. A former resident of Kharkiv told at the briefing why she decided to switch to speaking Ukrainian.
"Everything changed when I entered a bomb shelter in Lviv and met the women staying there who told me, "Speak russian, we all speak russian, and it will be OK." And I told them, "No, I won't speak it ever again!" It is my choice; it is my front line; it is my investment into the new society, I would say," the retired architect Olena Rybalova from Kharkiv, a member of the speaking club, said.
Read more: https://mediacenter.org.ua/news