Back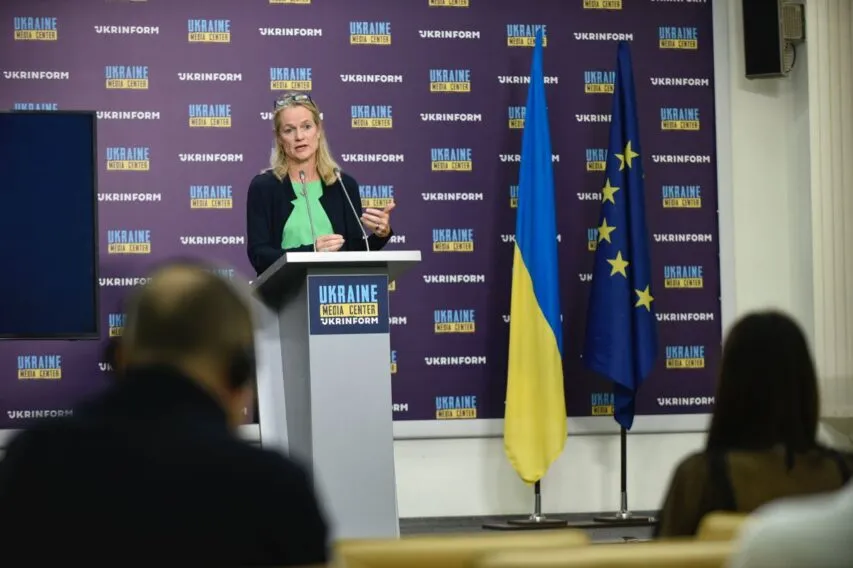 August 3, 2023, 16:03
Some EUR 50 billion to rebuild and modernize Ukraine – how European Commission's program will be implemented
In June of this year, the European Commission announced the creation of a special new Facility to support the recovery, reconstruction and modernization of Ukraine. The total volume of this special financing instrument is expected to reach EUR 50 billion for 2024-2027 to help Ukraine resist russian aggression and rebuild it into a modern and prosperous state.
During the discussion at Media Center Ukraine – Ukrinform, Viola von Cramon, Member of the European Parliament, Vice Chair of the Delegation to the EU-Ukraine Parliamentary Association Committee, spoke on how the Facility will work and the requirements necessary for its implementation.
Thus, according to her, an important aspect is that Ukraine's development plan should be drawn up not only by the Ukrainian government, but also by all the Ukrainian people and civil society.
"We speak about the EUR 50-billion Ukrainian Facility, which means on one hand, we need to see in Ukraine a Ukrainian plan, which should be set up by the Ukrainian people, and not just by the government. And that is also important, at least for us in the European Parliament. That it needs to be set up in the democratic process, we need to see that this is inclusive, that there is the civil society included, that this is being facilitated together with the opposition in the parliament. And of course, we need to make sure that the criteria, which are set up by the European Commission, are met as much as possible," she explained.
The MEP noted that according to the plan, the payouts will start at the beginning of next year. She noted that the first pillar, the so-called "Ukrainian plan", will involve EUR 12 billion. However, according to her, the payment mechanism itself is still being developed.
At the moment, it has not been finally determined, which sectors of the economy will receive funding, since everything will depend on the guaranteed security conditions.
In addition, the plan being drawn up at the moment clearly indicates that not only the executive power will determine how funds will be allocated to various projects. Other participants will also be included in this process, in particular civil society and local self-government agencies.
"Civil society is crucial, especially when it comes to sustainable building. We need to see how you can build up climate-neutral living places, residential places, office places, industries and so on. We need different branches from the civil society, we need architecture, different experts, think tanks to bring this knowledge. We need to strengthen institutions to make sure that all the voices, which are crucial for the reconstruction phase, are being heard before we finally disseminate the money," explained Viola von Cramon.
Read more: https://mediacenter.org.ua/news