Back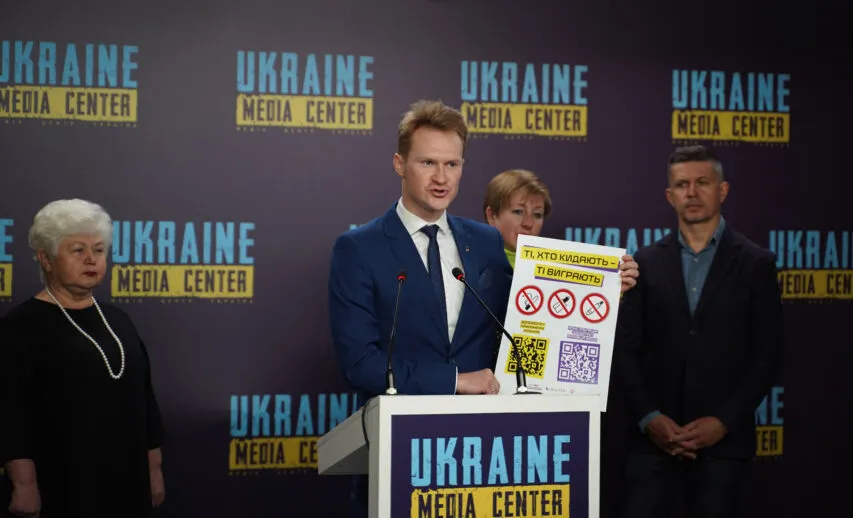 Participants of the briefing, Media Center Ukraine
September 22, 2022, 13:24
"Schools Without Nicotine and Tobacco:" Lviv oblast joins WHO international project
"Schools Without Nicotine and Tobacco" WHO pilot project is being implemented in ten schools of Lviv region. Its aim is to protect the health of students and raise awareness about the dangers of tobacco and nicotine products. The project will consist of three stages, Dmytro Kupyra, "Schools without Nicotine and Tobacco" Project Coordinator in Ukraine, Executive Director at Live Advocacy Center said at a briefing at Media Center Ukraine. First, schools will conduct an anonymous survey for students in grades 9-11. Then, informational materials about the harm of tobacco and nicotine products will be distributed in education establishments. In the 3rd stage, schools are encouraged to implement a permanent policy of fighting smoking. Dmytro Kupyra also noted that almost 90% of people in the world become smokers by the age of 21, and about 80% — by the time they reach legal age.
"We understand that children are the main target of the tobacco industry. And if we talk about Ukraine, then according to the results of research, in Ukraine, 20% of children and young people at the age of 15-16 are already, unfortunately, consumers of tobacco or e-cigarettes," — Dmytro Kupyra said.
"It is not only tobacco that students are often unaware of, although here it is more or less clear what is right and what is wrong, but also of new nicotine and tobacco products. We, as a society, and even more so the youth, do not know all the dangers posed by the newest tobacco and nicotine products. And we observe such a picture that young people often carelessly and freely consume nicotine products even inside schools. And there are cases when even parents buy them," — Andriy Skipalskyi, Program Officer for Noncommunicable Diseases at WHO Country Office in Ukraine noted.
Ukraine became the third country in the world to implement WHO pilot project "Schools Without Nicotine and Tobacco." It will be implemented in Lviv region from September to December. Organizers predict that the project will eventually be able to cover other schools.
"Both rural and city schools will participate in this project. 10 schools. These are just pilot schools now. Such a project should be more massive. Everyone should participate. Because smoking tobacco cannot be less or more harmful. It is simply harmful," — Iryna Sysliuk, Head of the Preschool, General Secondary, and Extracurricular Education of the Education and Science Department of Lviv Oblast Military Administration said.
Read more: https://mediacenter.org.ua/news