Back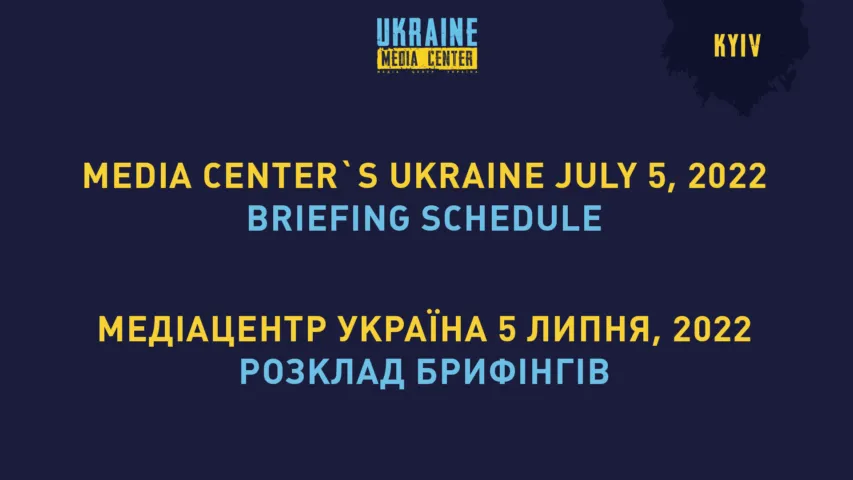 July 4, 2022, 21:09
SCHEDULE OF MEDIA CENTER UKRAINE – UKRINFORM EVENTS (KYIV, 8/16 KHMELNYTSKOHO STR.) FOR JULY 5
12:00 PM – Oksana Moroz, founder of the Yak ne staty ovochem (Don't Become a Vegetable) initiative; Anna Loza, project manager of the Don't Become a Vegetable initiative; Maksym Zinchenko, manager of business development programs and projects, data analyst at RuAssets (in person)
Key topic: Publishing a large database of russian propaganda operatives.
1:00 PM – Maria Mezentseva, Member of the Verkhovna Rada, Head of the Permanent Delegation of the Verkhovna Rada of Ukraine to the Parliamentary Assembly of the Council of Europe (online)
Relevant topic: The start of the Ukraine Recovery Conference in Lugano.
2:00 PM – Serhii Bratchuk, Spokesperson for the Head of Odesa Oblast Military Administration (online)
Key topics: Consequences of russian missile strikes on Odesa, security situation in the region.
2:30 PM – Oleksandr Motuzianyk, Spokesperson for the Ministry of Defense of Ukraine (in person)
Relevant topic: Current situation on the frontline.
Read more: https://mediacenter.org.ua/news