Back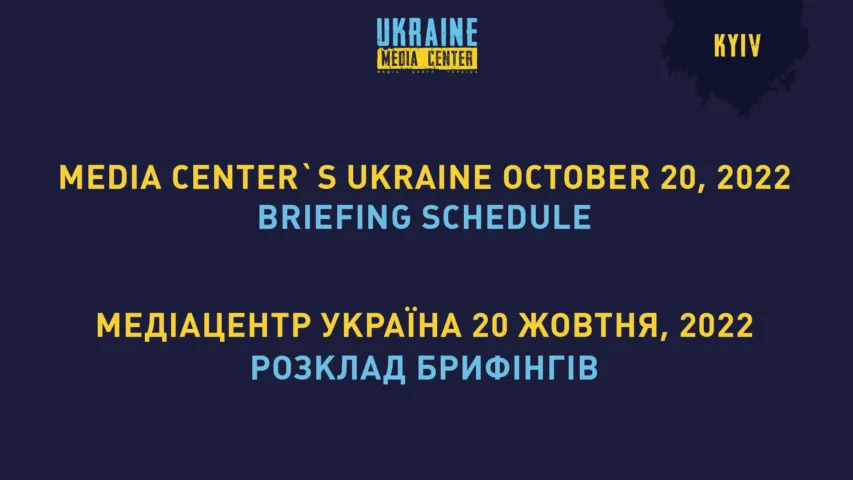 October 20, 2022, 20:57
SCHEDULE OF MEDIA CENTER UKRAINE – UKRINFORM EVENTS (KYIV, 8/16 KHMELNYTSKOHO ST.) FOR OCTOBER 21
11:00 AM — Hurtowyna band presents their debut music video for their song "Kulia" (Bullet), which is dedicated to all the fallen heroes in this war. The music video shows the story of a soldier returning home from the front. His poignant meeting with his wife and son. Hurtowyna band released this track on the eve of its tour of Ukrainian cities to raise funds for the Armed Forces of Ukraine.

Artur Zheleznyak – Ukrainian Composer,
Bohdan Zheleznyak – Director, Band Member,
Dmytro Panchenko – Singer,
Artur Zheleznyak – Guitarist,
Serhii Tsariuk – Drummer,
Dmytro Belov — Bassist
(in person)
12:00 PM — Yuriy Ihnat, Spokesperson of the Air Force Command of Ukrainian Armed Forces (online)
Topics of focus: russian missile strikes on Ukraine; Air Force of the Ukrainian Armed Forces on the frontlines of the russo-Ukrainian war.
12:30 PM — Dmytro Orlov, Mayor of Enerhodar (online)

Topic of focus: The current military and humanitarian situation in the city.
1:00 PM — Oleksandr Kharchenko, Director at the Energy Industry Research Center (in person)
Topic of focus: How Ukraine counters russia's attacks on energy infrastructure.
Read more: https://mediacenter.org.ua/news