Back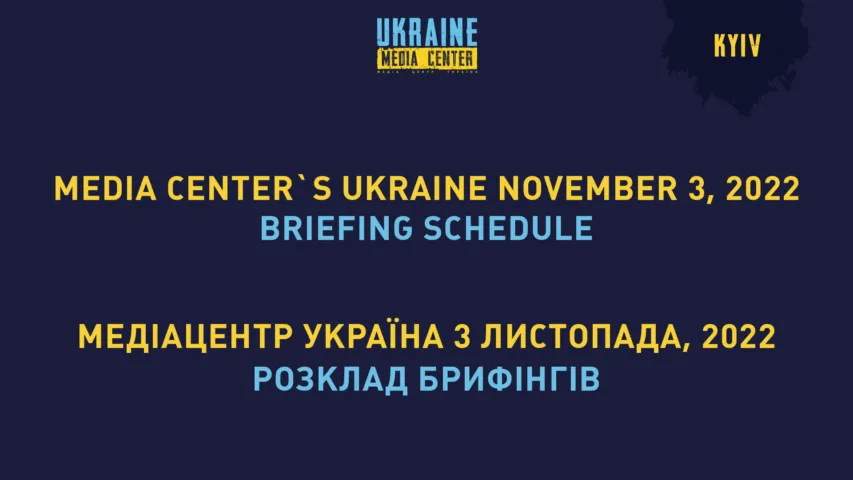 November 2, 2022, 15:52
SCHEDULE OF MEDIA CENTER UKRAINE – UKRINFORM EVENTS (KYIV, 8/16 KHMELNYTSKOHO ST.) FOR NOVEMBER 3
10:00 AM — Mstyslav Banik, Head of Electronic Services Development at the Ministry of Digital Transformation of Ukraine (in person)
Topics of focus:
Voting for members of the jury of the National Selection for Eurovision 2023 in "Diia" app
Digitization of the notary industry: notarized documents with a QR code
Purchase of war bonds in "Diia"
Signing up for a beta test of the function that allows to change the place of an IDP's registration and cancel the status of an IDP
Signing up for a beta test of "eOselia" program of affordable housing loans in "Diia"

11:00 AM — Mykhailo Radutskyi, Chair of the Verkhovna Rada of Ukraine Committee on Public Health, Medical Assistance and Medical Insurance (online)
Current topics: COVID-19, mask regimen, vaccines: availability in Ukraine
12:00 PM — Serhii Khlan, Deputy of the Kherson Oblast Council (online)
Topics of focus:
The current military situation in occupied Kherson
1:00 PM — SPECIAL EVENT! Opening of "Unconquered Cities" photo exhibition
Co-organizers:
Ukrinform and ArmyINFORM news agencies
Holos Ukrayiny newspaper of the Verkhovna Rada of Ukraine
"Vasyl Stus Memorial" All-Ukrainian NGO
"King Danylo Art Fund" NGO
Law of Ukraine legal journal.
Participants:
Oleksandr Kharchenko, Director General of Ukrinform Ukrainian National News Agency
Vitaly Sarantsev, Head of ArmyINFORM News Agency
Stepan Kubiv, Member of the Verkhovna Rada of Ukraine
Oleksandr Sviatotskyi, Editor-in-Chief of Law of Ukraine legal journal
The photo exhibition will feature the best photos by the photo correspondents of the above-mentioned media selected by the Press Centers of the Ministry of Defense and Ukrinform.
The event will be held offline (Hall 1).
Journalists will be able to ask their questions both in person (Hall 1) and in the chat of the YouTube broadcast.
We kindly request the journalists to arrive half an hour before the event.
Accreditation of media representatives will be carried out before the event at the agency.
Read more: https://mediacenter.org.ua/news