Back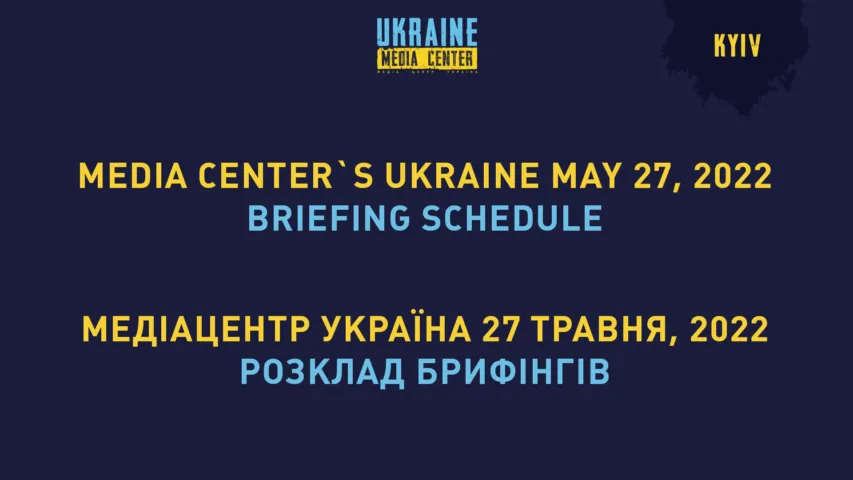 May 26, 2022, 17:50
SCHEDULE OF MEDIA CENTER UKRAINE – UKRINFORM EVENTS (KYIV, 8/16 BOHDAN KHMELNYTSKY STR.) FOR MAY 27
11:00 AM – SPECIAL EVENT Media Center Ukraine—Ukrinform invites foreign media representatives to a working meeting with leaders of the Ministry of Culture and Information Policy to discuss assistance to foreign journalists covering the war.
Please use this form to register: https://forms.gle/EmKbG81M5RhXNaDd6
2:00 PM—Hennadii Lahuta, Head of Kherson Oblast Military Administration (online)
Key topics: The current situation in the oblast; attempts by russian invaders to grant citizenship to residents of the oblast; the evacuation of civilians.
2:30 PM—Serhii Marchenko, Minister of Finance of Ukraine (in person)
Current topics: Ukraine's budget—proceeds and spending; core trends; assistance from international partners; potential tax hike
3:00 PM—Oleksandr Motuzianyk, the spokesperson of the Ministry of Defense of Ukraine (in person)
Current topic: The current situation on the frontline of the russo-Ukrainian war
Phone: +380914810004
Join our Telegram channel at https://t.me/UkraineMediaCenterKyiv
Journalists are requested to arrive at least 30 minutes before the event.
Important Notice: Media Center Ukraine — Ukrinform functions as a co-working space! We are waiting for you
Read more: https://mediacenter.org.ua/news