Back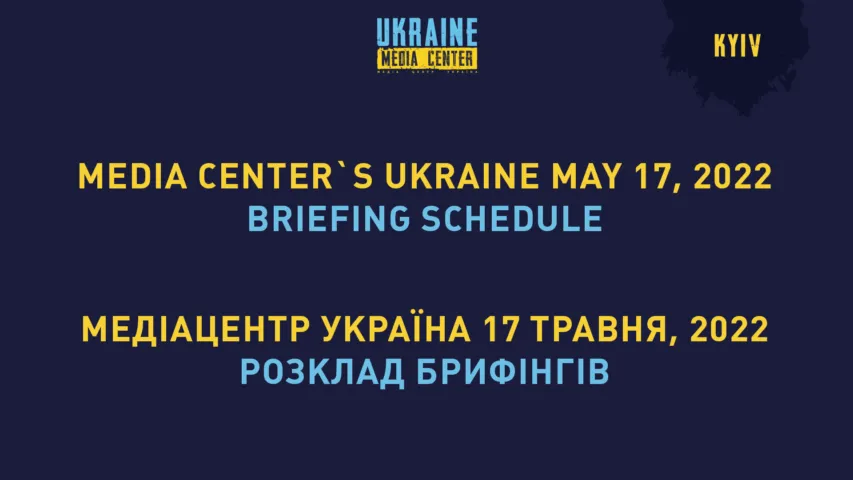 May 17, 2022, 10:29
SCHEDULE OF MEDIA CENTER UKRAINE – UKRINFORM EVENTS (KYIV, 8/16 BOHDAN KHMELNYTSKY STR.) FOR MAY 17
12:30 PM — Yevhen Moiseyenko, Head of the Main Service Center of the Ministry of Internal Affairs of Ukraine (in person)
Current topic: Training drivers and taking theoretical/practical exams in the Interior Ministry's Service Center under the new procedure.
1:30 PM — Olena Kondratiuk, Deputy Chairperson of the the Verkhovna Rada of Ukraine (in person)
Current topic: Baltic countries' support of Ukraine's membership in the EU; the conditions for Ukrainians to stay under temporary protection in Lithuania, Latvia and Estonia.
2:30 PM — Hanna Maliar, Deputy Defense Minister of Ukraine; Serhiy Sobko Head of Territorial Defense Forces Command of the Armed Forces of Ukraine (in person)
Current topic: Current situation on the frontline; Territorial Defense Forces' role in defending the country during the second phase of war.
6:00 PM — Dr Hans Kluge, WHO Regional Director for Europe; Jarno Habicht, WHO Representative in Ukraine; Dr Dorit Nizan, WHO Incident Manager for Ukraine.
Current topics: the state of Ukraine's health care; the population's health care needs; results of Dr Kluge's trip to the regions liberated from the occupation.
Phone: +380914810004
Join our Telegram channel at https://t.me/UkraineMediaCenterKyiv
We kindly request journalists to arrive at least 30 minutes before the event.
Important Notice: Media Center Ukraine — Ukrinform functions as a co-working space! We are waiting for you!
Read more: https://mediacenter.org.ua/news