Back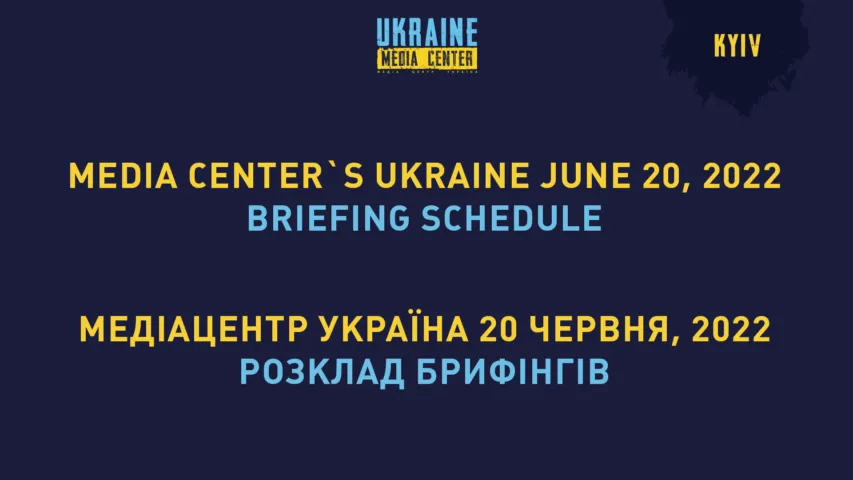 June 18, 2022, 16:55
SCHEDULE OF MEDIA CENTER UKRAINE – UKRINFORM EVENTS (KYIV, 8/16 BOHDAN KHMELNYTSKY STR.) FOR JUNE 20
11:00 AM – The off-the-record background meeting of Mykola Solskyi, Minister of Agrarian Policy and Food, with Ukrainian and foreign journalists
Speaking to journalists informally, the Minister will talk about:
the food security worldwide;
the sowing campaign in Ukraine;
meeting the needs of the domestic market and exports of Ukrainian products.
Please register for the meeting at https://forms.gle/KkEB1N1K2pWu1k3h7
1:30 PM – Damien Magrou, Spokesperson for the International Legion for the Defence of Ukraine (in person)
Key topic: International Legion's achievements in the russo-Ukrainian war
3:00 PM—Hennadii Lahuta, Head of Kherson Oblast State Administration (online)
Relevant topic: The current situation in the oblast.
5:00 PM – Iryna Vereshchuk, Vice Prime Minister—Minister for the Reintegration of Temporarily Occupied Territories of Ukraine, Deputy Ministers Pavlo Kozyrev, Oleksiy Borodai, Anatolii Stelmakh, Commissioner for Persons Missing under Special Circumstances Oleh Kotenko and Director of National Information Bureau Oleksandr Smyrnov
Key topics: working with temporarily occupied territories and internally displaced persons, exchange of POWs, humanitarian corridors, liberating the civilians, activities of the National Information Bureau, repatriating the deported, locating the missing persons, and appraising the losses.
Read more: https://mediacenter.org.ua/news