Back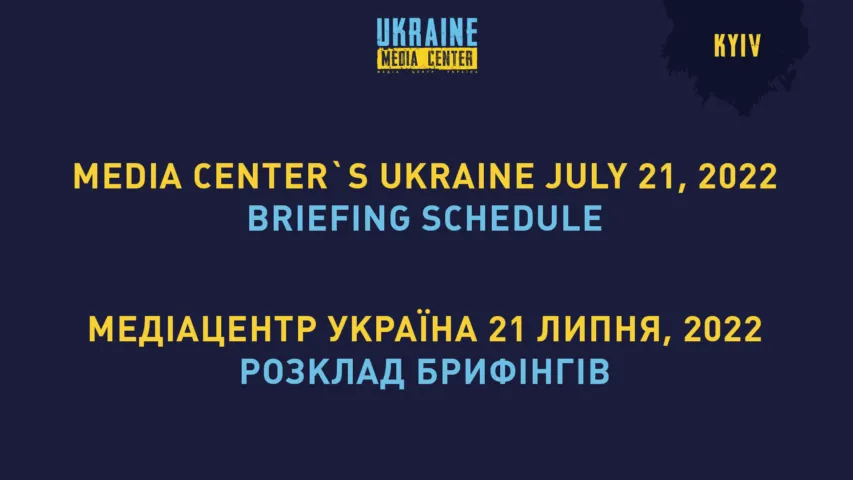 July 21, 2022, 17:51
SCHEDULE OF MEDIA CENTER UKRAINE – UKRINFORM EVENTS (KYIV, 8/16 BOHDAN KHMELNYTSKY STR.) FOR JULY 22
11:00 АM – Taras Shevchenko, Deputy Minister of Culture and Information Policy in charge of the European integration (in person)
Key topic: The law on media – Ukraine's integration in the EU in the information sphere.

12:30 PM – Taras Chmut, Director of the Come Back Alive Charitable Foundation; Oleksandr Arhat, Co-founder of the Militarny web portal; Anastasiia Tymoshenko, Representative of EMPAT IT company (in person)
Key topics: The presentation of an online platform that will enable foreigners to support Ukraine's Armed Forces, which destroy russian invaders. The participants will present the RevengeFor project that will help raise donations for the Come Back Alive foundation that provides competent support for the army

1:30 PM – Vasyl Zadvornyy, Director of ProZorro State Enterprise, Andrii Mazan, Executive Director of Tsegrin NGO (in person)
Key topic: Presentation of the Communities of Integrity coalition and an initiative of reporting on the use of humanitarian aid.
Read more: https://mediacenter.org.ua/news