Back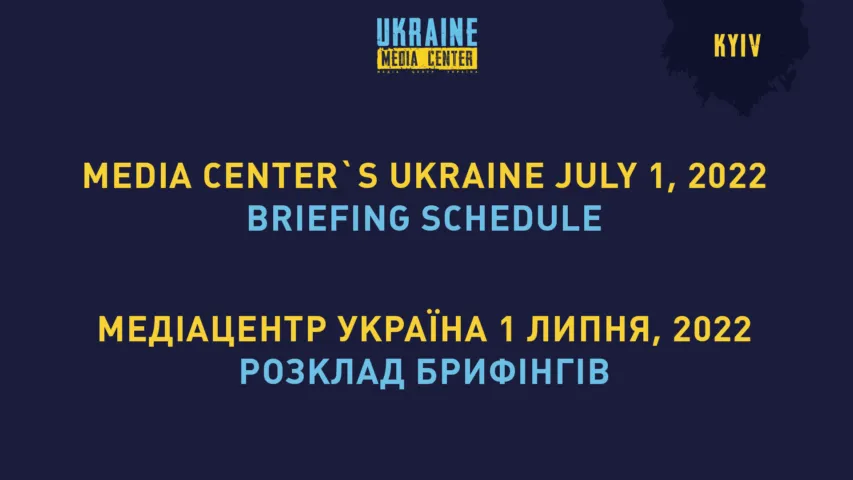 June 30, 2022, 16:51
SCHEDULE OF MEDIA CENTER UKRAINE – UKRINFORM EVENTS (KYIV, 8/16 BOHDAN KHMELNYTSKY STR.) FOR JULY 1
10:00 AM – Mykola Solskyy, Minister of the Agrarian Policy and Food of Ukraine;
Denys Bashlyk, Deputy Minister of the Agrarian Policy and Food of Ukraine in charge of digital development, digital transformations, and digitalization;
Markiian Dmytrasevych, Deputy Minister of the Agrarian Policy and Food of Ukraine;
Inna Bernatska, Vice President of the Notary Chamber of Ukraine;
Daryna Marchak, First Deputy Director of ProZorro.Sales State-owned Enterprise;
Andrii Martyn, Senior Project Manager (Land Reform) at the Reforms Delivery Office of the Cabinet of Ministers of Ukraine (in person).

Key topics: major performance indicators of the land market during the first year of its operation; the most important novelties in land management; the operation of the market under martial law; optimizing and simplifying the interaction between citizens and notaries when entering into agreements; the potential of electronic auctions for land owners and land users; further stages in developing land reform.

11:30 AM – Important Notice! Off-the-record expert meeting with journalists: the results of the NATO summit
Speakers:
Vadym Denysenko, Executive Director of the Ukrainian Institute for the Future;
Alexander Khara, Foreign Affairs and Security Policy Expert at Centre for Defence Strategies, Diplomat, Advisor to the Defense Minister of Ukraine (in 2020);
Oleksiy Pavliuchyk, Security Planning Expert at Centre for Defence Strategies

Relevant topics:
The NATO leaders officially recognized russia as the most serious and immediate threat: What does the approval of the Alliance's new Strategic Concept mean?
NATO accession of Finland and Sweden: What does it change for Europe and how will russia respond;
the NATO's continued support for Ukraine.

Registration: https://forms.gle/b7Q2WCgwXkQx2gzc7

12:30 PM – Kateryna Chuieva, Deputy Minister of Culture and Information Policy (in person)
Key topic: russia's crimes against Ukraine's cultural heritage.
Read more: https://mediacenter.org.ua/news