Back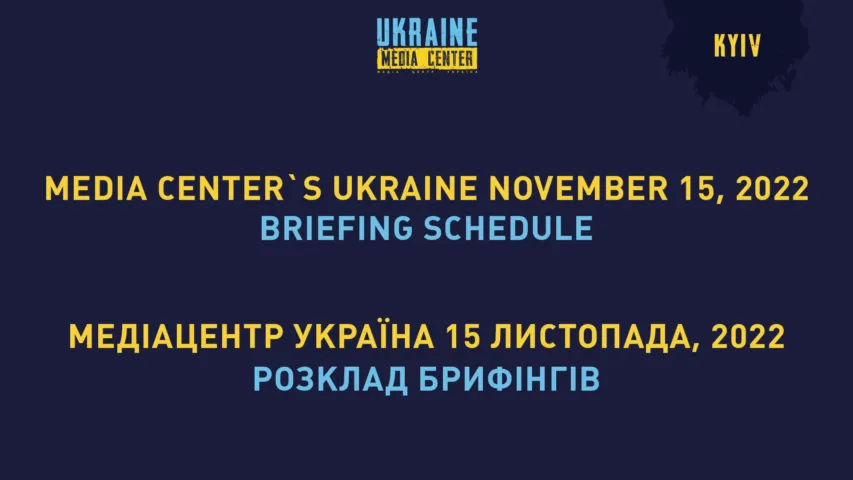 November 14, 2022, 17:49
SCHEDULE OF MEDIA CENTER UKRAINE – UKRINFORM EVENTS (KYIV, 8/16 B. KHMELNYTSKOHO STR.) FOR NOVEMBER 15
12:00 PM — Serhii Khlan, Deputy of the Kherson Oblast Council (online)
Topics of focus:
The current situation in the de-occupied Kherson city
2:00 PM — Oleksandr Starukh, Head of Zaporizhzhia Oblast Military Administration (online)
Topics of focus:
The current situation in the region
2:30 PM — Andrii Omelchenko, Director of the "ATLANT Support Centre" (in person)
Psychological support for victims of combat operations

Why is this interesting?
After the beginning of rf's full-scale invasion in Ukraine, Andrii Omelchenko founded the "ATLANT Support Centre". The main activity of the center is to train mobile teams for psychological assistance to the military and victims of military operations throughout Ukraine. The center trained more than 300 consultants on dealing with losses, phobias, PTSD management and prevention.
Such teams already work in 6 cities: Kyiv, Odesa, Lviv, Rivne, Chernivtsi, Sumy, as well as in the UK. Volunteers periodically go to the front line to provide psychological assistance to military personnel directly involved in combat operations. They have already made more than 100 visits to military units, hospitals and places of settlement for internally displaced persons, and conducted thousands of successful consultations that helped people survive the horrors of war and saved them from psychological consequences.
Read more: https://mediacenter.org.ua/news